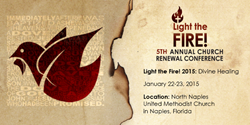 "We'll be looking at brokenness of any kind."
Dayton, OH (PRWEB) October 22, 2014
United Theological Seminary announces that early registration is open for its 5th Annual Church Renewal Conference, Light the Fire! 2015: Divine Healing, which will take place outside of Ohio for the first time in the event's history. The conference will be held January 22–23, 2015, at North Naples United Methodist Church, Naples, Florida, where United alumnus Rev. Ted Sauter is pastor.
Jason Vickers, professor of theology and Wesleyan studies at United, says, "At this event, we will be recovering the practice of healing and the way it can foster the renewal of local churches. And there will be a service for divine healing, which will have a participatory, experiential dimension."
Guest speakers for the upcoming conference include Kenneth Carter and James E. Swanson, bishops for the Florida and Mississippi annual conferences of the United Methodist Church, respectively. Other speakers are William J. Abraham, professor of Wesley studies at Perkins School of Theology, Southern Methodist University; Candy Gunther Brown, associate professor of religious studies at Indiana University; Craig S. Keener, professor of New Testament at Asbury Theological Seminary; Ted Sauter, lead pastor of North Naples United Methodist Church; and Mike Slaughter, lead pastor of Ginghamsburg United Methodist Church of Tipp City, Ohio.
Light the Fire! 2015's theme of divine healing will cover a broad range of related topics, including divine healing in global Pentecostal and Charismatic Christianity.
"Many Christians self-identify as Pentecostal and Charismatic," Vickers says. "It is more common than we may think, and we seek to learn what healing means. … Is it physical, such as laying hands on someone with cancer? Or economic, or agricultural? Basically, we'll be looking at brokenness of any kind."
Light the Fire! 2015 will be live-streamed. Registrants will be contacted before the event with an address and password to view.
For more information, including the complete schedule and cost, or to register, visit LightTheFire.org. Register by December 1 for $20 off group and individual rates.
United Theological Seminary, now in its 144th year, is one of the fastest growing theological schools in the United States. It was founded in 1871 by Milton Wright, a Bishop in The United Brethren Church and father of Wilbur, Orville and Katharine Wright. United offers accredited, innovative graduate and non-degree education programs for both clergy and laity. Please visit United.edu for more information.