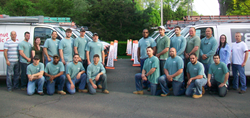 Wilton, CT (PRWEB) October 23, 2014
It may be a good idea, as 2014 will mark the first year that light bulb manufacturers will officially stop making traditional 40 and 60- watt light bulbs, in favor of halogen, compact fluorescent, LED and high-efficiency incandescent bulbs.
Chestnut Electric, an electrical contractor based out of Wilton, CT, has all the information you need to know about LED lighting and the tips you can use to help you save money on your electric bill for this upcoming winter.
There are two basic methods of utilizing LED lighting. The first method is using light fixtures that are designed from the ground up as LED light fixtures, meaning that the LED light circuits are built right into/onto the fixture itself and there is no bulb to change or swap out. Previously, we at Chestnut Electric might have suggested to steer away for these electrical options, especially on the recessed lighting side, because they were new to electrical technology and the color quality was not quite there. While there are still issues and potential additional costs involved in dimming proprietary LED fixtures (a separate topic in and of itself), we believe that they have now become a very viable option.
The second method of utilizing LED lighting is that of the LED "retrofit" bulb. You simply remove your current incandescent bulb and replace it with a similar LED version. This is the option we will dig into a little deeper in this Chestnut Electric newsletter.
LED (light emitting diode) lamps are useful for general and special purpose electric lighting. LED bulbs contain no mercury and turn on instantly at any temperature. They have a long life, which is unaffected by turning the light bulbs on and off. LED lamps can emit saturated colored light without the use of filters.
To give you an idea of the extreme cost savings in changing over to these alternative light bulbs; 60-watt bulb in a table lamp/decorative light will ultimately cost about $28 per year if kept on six hours each day. An 8-watt LED bulb, generating the same level of light, left on over the same amount of time will cost approximately $3.68 per year. This LED bulb may initially cost about $14, compared to less than $1 for the cost of the incandescent light bulb. However, the LED bulb will pay for itself in energy savings in less than a year.
Here are some changes that you should make today to save this most this winter.
Using a 60w household bulb?
Switch to a LED/A19/8w/2700K or 3000K bulb.
Using a 75w Par 30 recess bulb?
Switch to a LED/Par30/13w/2700K or 3000K bulb.
Using a 50w Par 20 reccess bulb?
Switch to a LED/Par 20/8w/2700K or 3000K bulb.