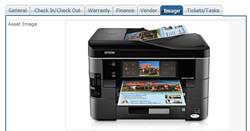 Benicia, CA (PRWEB) October 23, 2014
Crow Canyon Systems, provider of business applications for Microsoft SharePoint, has added both Barcoding and SCCM Integration to its popular Asset Management for SharePoint program. These features further extend the program's ability to streamline maintenance work and provide cost savings when tracking and servicing IT assets.
Barcoding and SCCM integration build upon the Asset Management program's many capabilities, which already include full lifecycle asset tracking, vendor management, ticket tracking, maintenance scheduling, and support contract management, among others.
◾Barcoding gives users the ability to quickly identify and catalog an asset. It can be used for initial asset intake, inventory, check-in/check-out, and other purposes. With a simple barcode scanner, management of the assets becomes much easier.
◾SCCM Integration allows users to link Crow Canyon's SharePoint-based Asset Management program with records in a Microsoft System Center Configuration Manager (SCCM) database. The data synchronization can be fine-tuned using utilities that come with the program. Crow Canyon also provides a unique web interface to display SCCM data.
The SCCM integration is in addition to synchronizations that the application already provides to other network discovery tools, including Lansweeper, Dell KACE, EMCO Network Inventory, and more. Crow Canyon's Asset Management for SharePoint, when used in conjunction with these tools, provides a complete, full-spectrum view of IT assets.
The Asset Management application is part of Crow Canyon's Business Suite for SharePoint, a collection of core business applications that is in use at organizations around the world.
More information is available at Asset Management for SharePoint