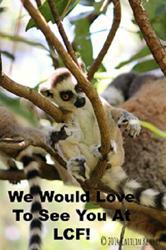 Lemurs, the iconic animals of Madagascar, are ambassadors for a powerful conservation message. Their fragile hold on the future is a report on our collective stewardship of our planet. Together we can help them, and Madagascar, move forward confidently,
Myakka City, FL (PRWEB) October 29, 2014
Lemur Conservation Foundation(LCF) welcomes the public to visit the unique facility for the Open House Conservation Day. This annual event provides an opportunity to learn about lemurs, the most endangered primate species in the world, and how managed breeding and other efforts safe guard species from extinction.
LCF occupies 100 acres of 'old Florida' habitats near Myakka City. The facility holds and breeds six species of lemurs, five of which are endangered or critically endangered according to the IUCN Red List. Lemurs face a great chance of extinction in Madagascar, their only wild home without concerted action by the conservation community and consumers.
Illegal logging of exotic timber like the rosewood tree for furniture and musical instruments contribute to the unprecedented population decline of wild lemurs, along with poaching for the exotic pet trade, and slash and burn agricultural practices. Scientists have estimated that, without our intervention, 90 of the 101 known species of lemurs face extinction. Lemurs, the iconic ambassadors of Madagascar, are emblematic of a larger conservation and environmental crisis. Scientists estimate that fifty percent of all known species of life on earth will face extinction over the next 100 years if we do not act.
LCF's Open House Conservation Day is a family friendly event, and is free to attend. Visitors will meet Lemur Conservation Foundation's animal care team, and learn about lemurs. For example, they live in family groups, and are prosimians, the oldest primates. There will also be lemur themed fun and games for lemur lovers of all ages.
LCF is an Association of Zoos and Aquariums certified related facility, but is not open to visitors on a regular basis. On this special day, Lemur Conservation Foundation welcomes interested citizen conservationists and families to experience its special mission:
Saturday 8 November, from 2 PM through 5 PM; RSVP to nhendrickson(at)lemurreserve(dot)org
Or call 941-322-8494
Media inquiries: colteanu(at)lemurreserve(dot)org
About Lemur Conservation Foundation:
Lemur Conservation Foundation (LCF) was established in 1996 by Penelope Bodry-Sanders. LCF is a leader in the conservation and preservation of the primates of Madagascar through programs dedicated to observation oriented research, education, and lemur propagation, with a commitment to infuse art into all of our mission programs. LCF is an American Association of Zoos and Aquariums accredited, private, 100-acre facility based in Myakka City, Florida. Our current lemur population, representing six species of lemurs, thrives in naturalistic free ranging habitats ranging in size from 9 to 13 acres, and smaller enclosures for animals in need of a more specialized environment. LCF is a respected voice for science, conservation, education, art, and lemurs, the iconic image of the conservation challenges and environmental stewardship facing Madagascar and the world.