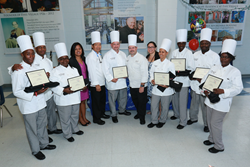 The most important issue is to help people in the community improve their job skills and improve their employment prospects
Paterson, New Jersey (PRWEB) October 22, 2014
The Culinary School at Eva's Village is a private vocational school certified by the New Jersey Department of Education and Department of Labor and Workforce Development. The school was established to provide job training and placement in the food service industry for adults interested in attaining careers in the culinary profession. Executive Director, Marie Reger, explained that Eva's Village established a culinary school to assist members of the community. "The lack of employable skills prevents many members of the community from becoming self-sufficient and acquiring affordable housing," stated Marie Reger. "The most important issue is to help people in the community improve their job skills and improve their employment prospects."
The five-month course provides fundamental cookery skills appropriate to basic positions in professional food preparation. Four-week modules include, Introduction to Culinary Arts/Breakfast Cookery; Buffet Prep/Short Order; Garde Manger/Pantry; and, Introduction to Baking and Pastry Arts. Topics cover recipe and menu genres, culinary math, knife skills, safety and sanitation, and breakfast cooking. Students will also be coached in workplace readiness and life skills throughout the modules. As students advance through the modules they practice cooking techniques, including soup, stock, and sauce production, vegetable and starch cookery, and scratch preparation of salads and dressings. More advanced classes cover meat and seafood fabrication, and cooking techniques; Garde Manger practices; and baking and pastry cooking techniques and production. The final module includes a four-week industry internship with post-internship placement services.
Donna Marie Fico, Director of Marketing and Education at Eva's Village noted that culinary students work with the vocational coordinator at The Culinary School and the Workforce Development Program preparing for job placement. "The students receive resume, interviewing and job search guidance throughout the program. Our first class graduated in August and 75% of the students are employed in the food service industry."
The Culinary School at Eva's Village will be featured at the Eva's Village 2014 Visions of Hope Annual Benefit Gala to be held Thursday, November 6 at The Grove, Cedar Grove, NJ. Event sponsors are long time Eva's Village supporter Rapid Pump & Meter Service, Co., Inc. and Machinery Services Corp, Paterson, NJ and The LeRoy Schecter Foundation, which will also receive the Where Hope Begins Award for the foundation's support of The Culinary School. The event cocktail reception sponsor is County Concrete Corp., Kenvil, NJ and a special Culinary School Feature presentation is sponsored by Railroad Construction Company, Paterson, NJ.
About Eva's Village:
Eva's Village (http://www.evasvillage.org), originally a New Jersey soup kitchen, was founded in 1982 by Msgr. Vincent E. Puma in response to the increasing incidence of homelessness in his Paterson, NJ parish. But Msgr. Puma soon realized that a soup kitchen was not enough. With the generous support of thousands of donors and private and government grants, Eva's has grown to be the most respected anti-poverty program in New Jersey. Their mission is to feed the hungry, shelter the homeless, treat the addicted and provide medical and dental care to the poor with respect for the human dignity of each individual.
About Rapid Pump & Meter Service Co., Inc. and Machinery Services Corp.:
Machinery Services Corp. and Rapid Pump & Meter Service Co., Inc. are uniquely qualified and diverse service and construction companies providing a wide range of electrical - electronic and mechanical services to the industrial, commercial, municipal and transportation industries. With a long history in Paterson, the companies provide 24 hour service, 7 days a week. Their motto is - "The Answer is Yes….What's the Question?" Many employees have spent decades of service with their companies, and their depth of expertise insures positive results in all aspects of their projects. Whether it is a simple repair or a complex construction project, their people are committed to 100% customer satisfaction.
About County Concrete Corp.:
Since its inception in 1978 County Concrete Corporation has grown into one of the most successful redi-mix concrete and sand and gravel suppliers in New Jersey. With six locations, the Morris County-based company serves contractors, both large and small, throughout Northern New Jersey, from the Hudson River to Pennsylvania, and New York State down through Central New Jersey. County Concrete also has two landscape and mason supply centers, T. Landi in Morristown and the East Orange Mason Yard. President John C. Crimi, one of the original founders, has overseen the company's growth through its entire history. County Concrete has been built on service, quality and relationships and its ultimate success comes from extraordinary team work and the integrity of its employees.
About Railroad Construction Company, Inc.:
Railroad Construction Company, Inc. has a long and rich heritage. The company was established in 1926 to provide an array of track services for the private and public sectors along the East Coast. They have since developed into a major general contractor with experience and expertise in all areas of civil construction, track construction, and building construction. Their services include excavation, grading, site work, utility installation, structural concrete, building fit-out, building construction and rehabilitation, bridge construction and rehabilitation, roadway construction, and railroad track installation, track maintenance and track removal.
As a general contractor, Railroad Construction Company, Inc. is proficient in executing, administering and coordinating all aspects of the construction work necessary to complete projects on time and within budget. Their team has the proven experience and capability to design, construct and maintain roads, bridges, utility systems and railroad facilities. The goal of Railroad Construction Company, Inc. is to work safely and efficiently while completing the project in a timely manner to the satisfaction of their clients.
They continuously strive to be the best in safety, quality and productivity, while fostering an atmosphere of enjoyment for their co-workers, clients, vendors and subcontractors. They constantly monitor the progress of each project in order to ensure that their client receives a finished project which demonstrates the highest standards of workmanship in the industry.
Railroad Construction Company, Inc. remains dedicated to providing the same service and commitment to quality on which they were founded.