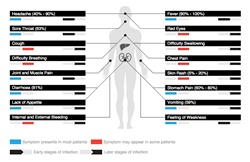 Arlington, Massachusetts (PRWEB) October 22, 2014
Involution Studios, a healthcare software design company, recently announced the release of a new infographic, Understanding Ebola. The goal of the project was to create a beautifully designed, easy to follow informative tool for anyone wanting to know more about Ebola's transmission, areas of outbreak, symptoms and prevention.
"As the news has spread in all directions we have discovered that the 2014 Ebola outbreak represents not only a healthcare crisis with global impact, but also an information crisis," said Juhan Sonin, one of the designers behind the project. "Even highly respected news outlets can have conflicting information on a single event, so that the stories are confusing and hard to trust. Hours spent poring over the NIH and CDC and WHO sites revealed the common threads of truth, but the details were scattered. There was no straightforward way to get a complete picture so we created one."
For more information on how this infographic was developed, visit Involution Studios' website.
About Involution Studios
Involution Studios provides UX software design to leading technology companies like Apple, Microsoft, Oracle, PayPal, and McAfee as well as to healthcare and pharma organizations like AstraZeneca, Walgreen's, 3M, Mt. Sinai, and Harvard Medical School's Personal Genome Project. Founded in Palo Alto, California and today headquartered in Arlington, Massachusetts, Involution has designed software used every day by over 300 million people. After deploying Involution's software, the firm's clients have gone public or been purchased by other companies for more than $5 billion. Involution Studios' staff hails from around the world and are graduates of the finest design and engineering schools including the Massachusetts Institute of Technology, Carngie-Mellon University, Rhode Island School of Design, and the Rochester Institute of Technology.