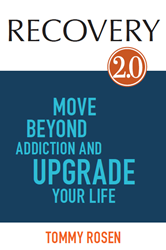 Los Angeles, California (PRWEB) October 22, 2014
Hay House is pleased to announce the official release of Recovery 2.0: Move Beyond Addiction and Upgrade Your Life (Paperback; $10.82) written by the highly esteemed Tommy Rosen, leader in the field of Yoga & Recovery. This book is meant to help readers of all kinds end their addictions and thrive in a life of recovery.
Recovery 2.0 is not the average self-help book, or a mock-up of the 12 Steps; Recovery 2.0 is a guide for what comes next. For many, Alcoholics Anonymous and The Big Book are the invisible hands, leading those in need through the first stages of recovery. But what comes next?
Recovery 2.0 gets to the root of the problem and helps readers better understand their dis-ease. From there, readers are shown best practices for navigating through the 12 Steps, and they are then introduced to Recovery 2.0. Readers are encouraged to change their choices of food, drop habits which many are told will help ease the stress of recovery, like cigarettes and caffeine, and are then given yoga, mindfulness and spiritual insight to help calm the mind. Recovery doesn't need to be experienced in the basement of a church; Tommy Rosen and Recovery 2.0 are offering readers an exciting vision of what's possible.
Critically acclaimed and respected members of the recovery community, such as New York Times Best-selling Author Gabrielle Bernstein, have joined in support of this groundbreaking book. "Tommy Rosen is a true leader in the world of addiction recovery," says Bernstein. "In his book Recovery 2.0, he offers transformational guidance for anyone ready and willing to release the chains of addiction. This book is a true service to the world."
This book will not only help members of the recovery community end substance abuse successfully, but will encourage all readers to terminate the habits holding them back from living a life of health, balance and happiness.
To connect with the Recovery 2.0 movement, check out http://tommyrosen.com.
ABOUT THE AUTHOR:
Tommy Rosen is a yoga teacher and addiction recovery expert who has spent the last two decades immersed in yoga, recovery and wellness. He holds advanced certifications in both Hatha and Kundalini Yoga and has more than 23 years of recovery from acute drug addiction. Tommy is a pioneer in the burgeoning field of Yoga and Recovery, assisting others to holistically heal from addictions of all kinds. He teaches regularly at yoga conferences and festivals, including Wanderlust, Hanuman and Sun Valley to name a few. He is the host of the Recovery 2.0 Online Conferences, a groundbreaking conference series of over 35 hours of inspiring talks from experts that will help you overcome addiction and thrive in recovery. He also teaches annually at Esalen, Omega and Kripalu. Tommy's first book, "Recovery 2.0: Move Beyond Addiction and Upgrade Your Life," is due out from Hay House October 21, 2014. Tommy and his wife, noted yoga instructor Kia Miller, live in Venice, California.
For more information about Recovery 2.0: Move Beyond Addiction and Upgrade Your Life, please visit http://www.tommyrosen.com or contact Valerie Allen at (310) 382-7800.
Author Events for Recovery 2.0: Move Beyond Addiction and Upgrade Your Life:
Wednesday October 22nd, 4:00pm | Follow the Honey (Cambridge, MA) | Kundalini Yoga Workshop and Signing
Thursday October 23rd, 7:00pm | Barnes & Noble (Santa Monica, CA) | Book Talk and Signing
Sunday November 2nd, 1:15pm | Yoga Tree (San Francisco, CA) | Workshop & Signing
Wednesday November 5th, 12:00pm | Pasadena Recovery Center (Pasadena, CA) | Book Talk and Signing