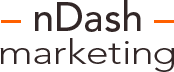 Boston, MA (PRWEB) October 28, 2014
nDash Marketing, a rapidly-growing content marketing agency, today announced the release of its latest eBook titled, "Developing Your Content Marketing Strategy: The Complete Guide to Editorial Planning," which offers a practical guide to maximizing the effectiveness of a brand's content marketing efforts. Providing a high-level overview of the common tips and techniques used to increase awareness and engagement, this eBook is the first of its upcoming five-part series.
"Almost every brand now understands the importance of content marketing, but it's critical for these companies to proceed in an organized and efficient manner," said Michael Brown, CEO and Founder of nDash Marketing. "Understanding how a content strategy works – what makes it tick and how you can maximize its effectiveness – will help companies better connect with their audience, while generating more leads."
"The Complete Guide to Editorial Planning" will highlight ways the content marketing professional can utilize an editorial calendar to create consistent, relative and compelling content for their audience. This eBook shows, step-by-step, what content marketing professionals first need to consider before mapping out their content. It then takes a look at the deliverables that should be included within a content strategy, and how to best manage and maximize the effectiveness of their content calendar.
Click here for a complimentary download of nDash Marketing's "Developing Your Content Marketing Strategy: The Complete Guide to Editorial Planning"
About nDash Marketing
nDash Marketing is a full-service content marketing agency, helping brands in all industries create original content that creates awareness, educates audiences and generates demand. Based in Natick, Massachusetts, the company was founded in 2013 by Michael Brown, a former journalist, author and content marketing professional. Its current roster of clients now includes several noted brands in software quality, cloud technology, wireless communication, IT security, financial software and others.
To learn more about nDash Marketing, visit http://www.ndashmarketing.com or follow them on Twitter @ndashmarketing.