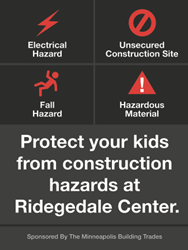 We have the technology to deliver our 'Shop at Your Own Risk' warning directly to consumers.
Minnetonka, MN (October 22, 2014) (PRWEB) October 22, 2014
With Halloween around the corner, plenty of malls are decked out in spooky displays, but unions say something really scary is happening at Ridgedale Center, and they're taking to social media to warn the public.
Local unions announced today the launch of a new mobile messaging "Shop at Your Own Risk" campaign to educate shoppers about chronic safety problems at Ridgedale Center. The unions plan to target the mobile and wireless devices of Ridgedale shoppers with safety-related ads between now and the end of November. The ad campaign will be accompanied by the launch of a website (ShopAtYourOwnRisk.org) and Facebook page (facebook.com/ShopAtYourOwnRisk).
"If you have a smart phone or use wifi at the Ridgedale Center, you're likely to see our safety message," said Dan McConnell, Business Manager for the Minneapolis Building and Construction Trades Council. The MBCTC represents a coalition of 28 labor groups that have been working on projects at Ridgedale.
The Center's $100 million remodeling project has been marred by delays and safety problems since it began last year. Unions have repeatedly documented dangers such as unlocked electrical boxes, improper disposal of hazardous materials, and unsecured demolition sites, and the Minnesota Occupational Safety & Health Administration cited a half-dozen serious safety violations in August.
Despite a promise last May from the Chicago-based mall owner General Growth Properties to resolve the issue, safety problems continued to arise. In July, union members took their message straight to customers by handing out safety leaflets at the mall. GGP responded by calling in police and banning several union members from the premises for trying to inform shoppers about the construction hazards.
"Mall management thought that if they kicked us off the property, consumers would be none the wiser," said McConnell. "But in today's digital age, we have the technology to deliver our 'Shop at Your Own Risk' warning directly to consumers. By repeatedly failing to secure dangerous construction sites, these contractors have put shoppers and their children at risk, and we think they have a right to know the dangers."
Unions developed the campaign with progressive digital advertising firm Revolution Messaging, headquartered in Washington D.C. The firm's founders made their name developing the digital advertising strategy for President Barack Obama's 2008 campaign.
The innovative campaign will launch while unions await a decision by the National Labor Relations Board to charge the mall's owner for interference with the free speech rights of union members. Unions accuse GGP of illegally blocking protected speech and using a double-standard in its efforts to prevent them from informing customers of mall safety problems.
"Despite promises from the mall owner that the problems would be fixed, things seem to have gone from bad to worse," said Joe Fowler, a Business Agent with Laborers Local 563. "GGP might be willing to wait until someone gets hurt, but we're not. We're going to keep warning shoppers about the dangers they face until GGP cleans up its act."
News Conference At A Glance
What: "Shop at Your Own Risk" digital media campaign launch
When: Wednesday, October 22 at 10:30 a.m.
Where: Nearby Parking lot Ridgedale Library, 12601 Ridgedale Drive, Mtk, MN 55305
Who: Labor Leaders representing nearly a dozen construction trades groups.
About The Minneapolis Building and Construction Trades Council:
The 16,000-member Minnesota State Building and Construction Trades Council is the advocate voice for unionized construction workers in Minneapolis and surrounding communities.
###