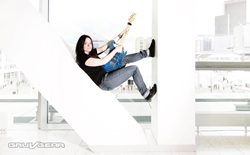 Petaluma, CA (PRWEB) October 23, 2014
Noted French guitarist, and Reunion Blues Artist Anouck Andre has officially announced her latest new project - The 30 Day Guitar Challenge. The challenge is a call to guitarists to play and try something new every day, for 30 days. The goal of Anouck's challenge is to establish routine, discipline and enjoyment of practice, even when every day life gets in the way and motivation is hard to find.
The project itself is very simple. Each day, for 30 days, Anouck will post a new video online of a new riff, lick or guitar concept. The video lessons will be brief but meaningful, and participants are invited to follow along, learn, enjoy, and share their ideas along the way. Every level of player is welcome, from beginners to advanced musicians, and a range of different styles and difficulty levels will be included. At the end of the challenge, the players will have a renewed dedication and passion for their craft - a hopefully a new habit to last a lifetime!
Anouck Andre is a graduate of the prestigious Music Academy International in Nancy France. She currently resides in southern France, where she teaches guitar and plays with various bands and singers.
Reunion Blues is proud to support Anouck, and invites all guitarists to join her on the 30 Day Guitar Challenge!
To learn more, watch the 30 Day Guitar Challenge video introduction here: https://www.youtube.com/watch?v=KDuin-3NfMQ
Founded in 1976, Reunion Blues is the music industry's premier gig bag and case company. Reunion Blues offers an extensive product selection including over 70 models of cases and bags for fretted, brass, woodwind, strings and percussion instruments.
Reunion Blues is dedicated to maintaining exceptional quality, and is committed to product innovation, superior design and distinguished style.