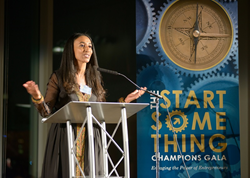 We are thrilled to have this moment to gather our stakeholders and celebrate innovative organizations and individuals from every corner of the entrepreneurial spectrum
Jersey City, NJ (PRWEB) October 22, 2014
October 21, 2014 — Jersey City non-profit Rising Tide Capital (RTC) will host their third annual Start Something Champions Gala on November 13 at the Hyatt Regency on the Hudson. That evening, Rising Tide Capital will honor and award cash prizes to the winners of the Start Something Challenge, and recognize local and national leaders in entrepreneurship.
"This year's celebration recognizes engines of our local economy from small business owners such as first place winner of the Start Something Challenge Ninotchka Johnson to a national leader like Walter Robb who will receive the Market Maker of the Year award on behalf of Whole Foods," said Alfa Demmellash, RTC's co-founder and CEO. "It takes an entire community—from big business to small business, community organizations to universities— to nurture an inclusive local living economy where all entrepreneurs can thrive. We are thrilled to have this moment to gather our stakeholders and celebrate innovative organizations and individuals from every corner of the entrepreneurial spectrum."
Rising Tide Capital will also honor the Paul and Phyllis Fireman Charitable Foundation with the "Entrepreneurial Award for Philanthropy," for their commitment to ending family homelessness and fighting poverty. Reem Rahim Hassani, chief brand officer and co-founder, and Ahmed Rahim, CEO and co-founder, of Numi Organic Tea, will be recognized as the 2014 "Entrepreneurs of the Year." Longtime RTC partner New Jersey City University will receive the "Entrepreneurial Educator of the Year" award, for their commitment to providing innovative small business support services to local entrepreneurs.
The Champions Gala is the culmination of RTC's Start Something Challenge which empowers New Jersey entrepreneurs to network, perfect an elevator pitch, gain exposure and win business financing. There are three rounds of competition in which competitors first created a business video using Animoto.com, garnering as many views as possible by sharing it through their social networks. The 30 videos with the most views advanced to the public voting round, where the top 10 pitched their businesses in front of a panel of judges at the Grand Finale. During the Gala, the three winners of the Challenge will be awarded $22,500 in business financing, the other seven finalists will be recognized with iPads to assist in their business endeavors.
The Challenge and Gala are underwritten by several collaborating organizations—including JPMorgan Chase and the Paul and Phyllis Fireman Charitable Foundation—as part of their commitment to small businesses and entrepreneurship in New Jersey. This third annual gala will raise funds for entrepreneurship development in underserved communities across New Jersey by providing scholarships for entrepreneurs to participate in Rising Tide Capital's 12-week Community Business Academy (CBA).
"These scholarships are critical for our entrepreneurs who are often starting businesses to support their families," said Alfa Demmellash, the CEO of Rising Tide Capital, "By providing them with a strong foundation in business management and operations, we can be more confident of their success."
Rising Tide Capital (RTC) is a Jersey City-based nonprofit organization founded in 2004 by Harvard graduates Alex Forrester and Alfa Demmellash. RTC helps entrepreneurs start and grow successful businesses by providing a 12-week Community Business Academy—supplemented by year-round workshops, coaching and networking events. These programs are currently offered in Spanish and in English in four cities across Northern New Jersey: Jersey City, Newark, Union City, and Orange Township. As of January, 838 entrepreneurs have graduated from the CBA and together, they operate over 403 businesses in New Jersey. RTC's model of entrepreneurship development has received national recognition from President Obama to CNN Heroes.
To learn more, visit http://www.RisingTideCapital.org.
###