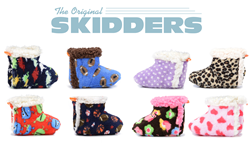 "It's almost like walking barefoot, which is the most natural experience and best way to promote proper walking development." say Michael Matalon, President of Skidders Footwear
New York City, NY (PRWEB) October 23, 2014
A fast growing footwear brand, Skidders Footwear is constantly developing new products. Known for their collection of innovative socks and shoes for the whole family, Skidders Footwear announced today the debut of the Plush Booties and Slipper Grips, new slipper product categories for baby and toddler boys and girls.
Available in sizes six months to four years old, the sherpa-lined Plush Booties are the ultimate slipper for early walkers, providing comfort, warmth, traction and protection. Gripper bottoms provide no-slip safety for kids in the early walking stages that need traction on wood and tile floors. Bright colors and whimsical prints from footballs to leopard appeal to both children and parents.
"We develop all products in our NYC design studio and work closely with our manufacturers to create quality products at competitive prices," says Michael Matalon, President and Merchandise Manager of NY-based Skidders Footwear. "We are also authorized licensees of NFL, CLC & MLB team properties. In the coming years, we know you will start hearing about the Skidders brand more often, especially moms. We have over 190,000 fans on Facebook and 99% of them are women aged 23-35. They love the brand and their referrals are expanding the brand awareness."
With safety at the core of Skidders unique line of gripper footwear products, the Plush Booties and Slipper Grips join Skidders Footwear's robust slipper offering for children which includes Gripper Slippers, Sweater Grips and Comfort Slippers.
The full collection can be viewed at http://www.SKIDDERS.com. Skidders products are sold in over 25 countries and more than 10,000 retail outlets across the United States.
About Skidders: Skidders Footwear made their debut back in 2008 with the original Skidders Shoe - a patented children's shoe that features a knit upper sock and a soft flexible rubber outsole. The shoes are easy to put on the child so there is no fussing with laces or velcro straps. The rubber sole is durable and protects the baby's foot and toe area, making it easier for kids to stand and balance on their tippy toes. The best part is the flexible outsole, making it feel natural and comfortable for the baby to walk.
"There was a belief that babies and toddlers required a stiff leather shoe to help them balance and promote walking development, but these formal types of shoes are clumsy and don't provide a natural walking experience for the child. That is why Skidders are the perfect shoe for baby to use when they start walking," says Michael Matalon, "It's almost like walking barefoot, which is the most natural experience and best way to promote proper walking development. In addition, Skidders shoes have a full rubber outsole to enhance traction on wood and tile flooring so kids can run around the house safely without slipping or falling."
Skidders Shoes are protected by the following US Patents;
US PATENT# US D619 790S, US PATENT#8,371,042 B2