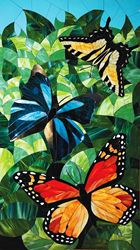 New York, NY (PRWEB) October 22, 2014
Mixed up Mosaics Commercial is currently preparing several international projects while working closely with major architects and developers in the industry. These projects have led to the need for a new and expanded studio space at 450 West 31st Street. The expansion is planned for completion by the end of December.
Mixed Up Mosaics Commercial just signed a deal with the developers of Milestone (a condominium development in the Bahamas) to work on a 5-year project that will double the total size of the company within the year.
"I am looking to get into larger projects more than ever before. My studio is so busy; the industry hasn't been this busy in years. Milestone loves our tiles so much that they flew two of my designers down to the Bahamas a week ago to hand deliver glass tiles … and we did it! The residential side of my business is also going very strong. People want more art on their walls. We just started a mural of Snoopy that is 8 ft. x 5 ft. for a bathroom," said Lesley Rattner-Provenzano, President of Mixed Up Mosaics Commercial.
Lesley Rattner-Provenzano, known for changing the mosaic art and glass tile world to become more couture is reinventing the wheel again with a brand new line of hand blown three-dimensional glass. This new line is in preparation and planned to hit the market by early 2015.
Mixed Up Mosaics Commercial is also collaboratively planning a trend show in Early 2015 for the launch of this new tile line while featuring other glass artwork (of old projects) reproduced on canvas that will be for sale.
"I have more and more people coming up to my studio now than ever before. After 25 years in the mosaic design business the world hasn't seen our greatest work yet. We have been working side by side with famous colorists and are in the process of developing a line that will knock the socks off the industry," said Lesley Rattner-Provenzano, President of Mixed Up Mosaics Commercial.
About Mixed Up Mosaics Commercial
Mixed Up Mosaics Commercial was founded in August 2014 by Lesley Rattner-Provenzano founder of the original Mixed Up Mosaics. Mixed Up Mosaics is best known for the manufacturing of breathtaking large scale mosaic murals, walls, floors, tile patterns/styles and stained glass art for the hospitality industry at large.