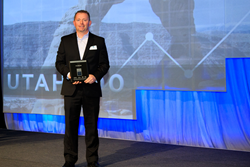 Innovation across our practices, constantly striving to be the best for our brand partners, and giving our employees opportunities to learn and shine have helped us to be where we are today
Salt Lake City, UT (PRWEB) October 22, 2014
Yesterday CLEARLINK was recognized by MountainWest Capital Network in the 20th anniversary list of the Utah 100. For the 8th consecutive year, CLEARLINK was awarded as one of the 100 fastest growing companies in Utah. The award comes on the heels of CLEARLINK's placement as 4th fastest growing company in Utah by Utah Business' Fast 50.
John Anderson, newly promoted Vice President of Finance and long-time CLEARLINK leader, accepted the award on behalf of CLEARLINK.
"We are proud of almost a decade of significant revenue growth. Innovation across our practices, constantly striving to be the best for our brand partners, and giving our employees opportunities to learn and shine have helped us to be where we are today," said Anderson. "Like other companies, we focus on our bottom line, but we also focus on what we call our triple bottom line, which includes the way we give back and grow our people and the way we help our community. This award honors our commitment and achievements to all three."
CLEARLINK growth continues to be fueled by expanded relationships with clients across the home services sector, growth in new verticals such as insurance and an award-winning team of sales professionals, digital marketers and corporate functions.
In 2014 CLEARLINK was nationally and locally recognized for strong leadership, business growth and innovative employee initiatives. Ted Roxbury, CMO was named a "Sales and Marketer of the Year" by Utah Business and Cammie Cable, VP of HR was named one of the "30 Women to Watch" by Utah Business. ComputerWorld magazine ranked CLEARLINK #19 in the "Top 100 Places to Work in IT," and CLEARLINK's 360 Fit Wellness program has been awarded the Healthy Worksite Gold Award and the Corporate Wellness by Gold's Gym Diamond Award.
About CLEARLINK
CLEARLINK partners with the world's leading brands to increase their reach, drive and fulfill valuable transactions, and deepen insight into consumer behavior. CLEARLINK has delivered millions of customers to its brand partners over the past ten years through its customized marketing, sales and analytics platform. CLEARLINK, headquartered in Salt
Lake City, Utah and established in 2003, employs over 1,200 local sales, technology and marketing professionals.
For an opportunity to join the growing CLEARLINK family, visit http://www.clearlink.com/jobs.
Media Contact: Tarah Reeves, Tarah(dot)Reeves(at)CLEARLINK(dot)com, (801) 712-5066