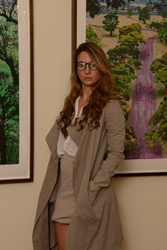 There's a huge market out there for what we're doing and the great thing is whether you're a young professional in LA or you're browsing AuctionMyStuff.com from a couch in the Midwest it's really affordable
Los Angeles, California (PRWEB) October 23, 2014
Move over Christie's and Sotheby's, a 25-year-old web executive is bringing art & antiques auctions to the masses. Megan Mulrooney has left behind the stuffy appraisal rooms of London with a mission to turn Los Angeles into the younger, hipper epicenter of auction chic.
Targeting the vintage consignment set as well as the Antiques Roadshow faithful, the New York University grad and native Angelino is counting on the booming young arts "Silicon Beach" tech scene to lead the auction revolution.
The days of traditional auction houses and pawn shops are over, if Megan is to be believed. Even tech giants eBay can be improved upon. In a few minutes online, ValueMyStuff.com can appraise the value of anything from an Old Master to an Elvis autograph.
Having lived in Spain for a year in a high school and spent time abroad throughout university in Spain, Italy and Buenos Aires, Megan worked in Sotheby's Impressionist & Modern Art Department in London and collaborated on important collections such as The Gunter Sachs Collection and the Stanley J. Seeger Collection.
She joined up with Patrick van der Vorst, former Sotheby's Director and Head of the Furniture Department, soon after he won a substantial investment in his bold new easy-to-use start-up ValueMyStuff.com from tycoon panelists on 'Dragon's Den,' the UK TV equivalent to ABC's 'Shark's Tank.'
Together they devised AuctionMyStuff.com as a way of expanding the Stuff franchise.
It is a unique online marketplace where art, antique and collectables enthusiasts from around the world can buy and sell items that – unlike other online auction platforms like eBay - have been valued by experts prior to sale.
Now Megan, who graduated with a degree in Social Entrepreneurship, Language and Art, is back home in Los Angeles and recently opened a trendy shared space office on Hollywood Boulevard.
"I've only been here a short while and already our numbers are shooting up," said Megan. "There's a huge market out there for what we're doing and the great thing is whether you're a young professional in LA or you're browsing AuctionMyStuff.com from a couch in the Midwest it's really affordable.
"With a touch on the pulse, we're hiring digital marketing experts who can advertise our services to the critical mass and receive advice from other art professionals who are trying to educate people about art, art history, antique provenance and how to value property.
"We are also breaking out into much younger forms of advertising like YouTube and Facebook which will truly make our brand familiar to all different communities," she added.
"There's an energy in LA that makes it the perfect place to be for a vibrant new business like ours."
What is Auction My Stuff?
Auction My Stuff is a new online auction service for Art, Antiques and Collectables Auctions. With antique values you can trust provided by former Sotheby's and Christie's experts with over 20 years of expertise, buyers can search auction catalogues, watch items online, and buy antiques now for a fair market price. Auction My Stuff is a buying and selling alternative to eBay, where all art, antiques and collectables first receive an appraisal before being listed online. Browse auction listings for over 40+ collecting categories including Paintings, Antique Furniture, Sports Memorabilia, Silver and much more. To get your item valued before sale click here or to learn more about how to sell your item click here. We have a large international community of buyers who will buy your art, antiques and collectables now!
To interview Megan and learn more about AuctionMyStuff.com, please contact:
David Gardner
Los Angeles
+1 310 433 2392
David(AT)davidgardnermedia.com
DavidGardnerMedia.com
@DGardnerMedia