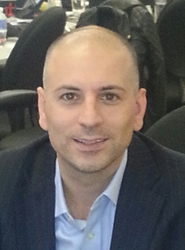 I'm excited to partner with the Lehman College Small Business Development Center to help small businesses grow through digital marketing.
New York, NY (PRWEB) October 23, 2014
Daily News Digital Solutions (DNDS) is excited to announce that they are partnering with the Small Business Development Center of Lehman College to present Key Essentials of Online Marketing. Those who are small business leaders or plan to be one should register to attend the presentation from 10 a.m. to noon on Oct. 29 in Carman Hall of Lehman College. Seating is free but limited so call 718.960.8806 to reserve a seat.
The Small Business Development Center at Lehman College is a dynamic organization that has been providing their expertise to the small business community of New York City since 1987. Keeping up with emerging trends for small businesses has always been at the forefront of their mission. The Small Business Development Center, in partnership with Daily News Digital Solutions will be providing an opportunity for small business leaders to get free, professional help with digital marketing. The emphasis of this workshop will be on social media and its value to digital marketing, especially for small businesses. Michael Flaminio, Vice President of Daily News Digital Solutions, will be presenting comprehensive ways to build internet and mobile marketing plans that incorporate social media.
Those looking for additional one-on-one consultation should meet the Daily News Digital Solutions team at the New York Business Expo & Conference on Oct. 30 at the Jacob K. Javits Convention Center.
About the company:
Daily News Digital Solutions is a comprehensive Internet marketing service in New York and New Jersey that works to organize, establish, and manage the web presence of a variety of clients and businesses in the New York/New Jersey metropolitan area. By utilizing industry-leading techniques and fresh research, Daily News Digital Solutions' Internet marketing services benefit from a cutting-edge approach that is dynamic and effective. Customers will see their web presence swell from a campaign that utilizes multiple platforms of Internet marketing including: web design, search engine marketing, search engine optimization, email targeting, press releases, social media, reputation management, mobile and more.