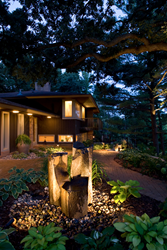 "Trees are the pillars in your landscape design and fall is the time to plant them," said Karen Filloon, landscape designer with Southview Design.
(PRWEB) October 23, 2014
Winter may be around the corner, but the landscape experts at Southview Design say that this is ideal time to think about the pillars in any landscape design – the trees.
The best time to plant trees and shrubs is in the fall, and now is the time to get them in the ground, said Karen Filloon, a landscape designer with Southview Design. "The roots just need to get established before the snow flies," Filloon said. "Roots can grow in soil as cold as 40 degrees. Even if the air temperature is below 40, the soil is warmer than the air."
The most important consideration in planting a tree is to pick a location that will enable the tree to grow to its full size and offers the requisite conditions – sun or shade – for that particular plant, Filloon advised. "You don't want to have to transplant a tree or a shrub, so plan ahead," she said. "Ideally, that tree or shrub is one component of an overall landscape design for your entire yard."
Since it's fall, Filloon cautioned against fertilizing trees or shrubs, which can weaken the plant and inhibit root establishment. She also advised against pruning trees and shrubs; pruning promotes new growth which is fine in the spring, but not the fall. However, adding a root hormone, which encourages roots to grow, is definitely a good idea, she said.
A thoughtful landscape design also takes lighting into consideration. Featured trees can set the stage for dramatic nighttime lighting using one of several lighting techniques, such as uplighting, silhouetting and moonlighting. "If the tree is big enough – at least 15 feet tall – it could be a candidate for downlighting or moonlighting," Filloon said. The light fixture is mounted high up in the trunk and branches so it can cast light downward through the branches to create interesting shadows on the ground.
The type of fixture, intensity and color of the bulbs, and spread of the beams can have a huge effect on the character and mood. Lighting is also a great way to brighten the long autumn nights and dress up a home for the holidays.
Since Minnesota has had very little rain this year – less than .02 of an inch so far in October – it's important to thoroughly water your trees and especially the newly-planted ones until the ground freezes, Filloon said. She also suggested hiring an arborist to check the trees for overall health and possible winter/spring pruning.
Southview Design has posted several photos showing moonlighting and other dramatic effects created by lighting trees and landscape features. For outdoor landscaping and lighting ideas, visit http://www.southviewdesign.com.