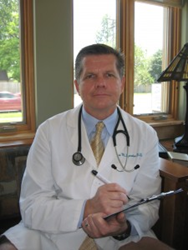 Aurora, IL (PRWEB) October 21, 2014
Dr. Kaz Zymantas is pleased to announce that he is extending his dental practice to include residents of Aurora with missing teeth and other dental problems. Patients who need multiple dental implants but do not want to wait for months before receiving new teeth are invited to find out if they are candidates for the All-on-4™ procedure offered by Dr. Zymantas.
When dental patients in Aurora have missing teeth due to gum disease, accidents, or decay, it is imperative to have the empty spaces filled in as quickly as possible in order to discourage bone loss and prevent the remaining healthy teeth from moving. Many patients opt to receive dental implants to replace their missing teeth because they have a reputation for being very reliable and strong. They also look and function just like normal teeth. However, traditional implants involve placing a post in the jaw bone, then waiting for months for the post to integrate into the bone before placing the new teeth. During the osseointegration process, the patient is left with spaces that can make it difficult to eat and speak. Additionally, unfilled spaces can change the appearance of a person and make their smile less aesthetically pleasing.
In an effort to help patients feel more confident and retain their ability to speak and eat as naturally as possible, Dr. Zymantas offers a unique procedure called All-on-4™ that allows his patients to receive specialized implants that are designed to provide immediate function. The rapid and effective procedure involves placing four anchor implants into specific areas of the jaw and then fitting the patient with a temporary set of dentures while the gums heal and the implants integrate. Once the implants have fully osseoentigrated, the temporary dentures are then replaced with permanent new teeth that are strong and reliable.
All residents of Aurora with missing teeth due to gum disease, injury, or decay are encouraged to schedule an appointment with Dr. Zymantas at his Naperville practice and find out if they are eligible to receive All-on-4™ dental implants.
About The Doctor
Dr. Kaz Zymantas is a general dentist offering personalized dental care for patients in Naperville, IL for over 30 years. Dr. Zymantas received his Doctor of Dental Surgery from the University of Illinois and has earned a fellowship in the American Academy of General Dentistry, an honor belonging to only three percent of dentists in the world. Dr. Zymantas is part of one percent of dental professionals providing the LANAP protocol, an FDA cleared laser procedure for gum disease and periodontal treatment. To learn more about Dr. Zymantas and his dental services visit his website at http://www.lanapnaperville.com.