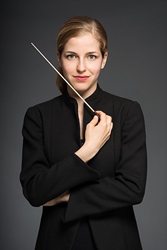 The Vasks is a beautiful work that transports the listener into another dimension of reality.
TOLEDO, OH (PRWEB) October 22, 2014
This Friday only, the Toledo Symphony Orchestra will perform works by Vivaldi, Smetana, and Sibelius at the Winebrenner Seminary at the University of Findlay. Additionally, the orchestra will present the United States premiere of Lonely Angel by Pēteris Vasks.
Vasks, a Latvian composer who was born in 1946, wrote Lonely Angel in 2006. It has since been performed in Latvia, Germany, Finland and Iran. Conductor Karina Canellakis, who will also be the violin soloist on the Vasks and Vivaldi says, "The Vasks is a beautiful work that transports the listener into another dimension of reality. The solo violin emotes in a spiritual, intangible way, rarely giving any sense of corporal human emotions, but rather of the heart-breaking concept of what happens to one's soul after death."
Karina Canellakis, currently serving her first season as Assistant Conductor of the Dallas Symphony, is rapidly gaining recognition as one of the most promising and exciting young American conductors. She made her Carnegie Hall conducting debut in Zankel Hall, and frequently appears as guest conductor of New York's groundbreaking International Contemporary Ensemble (ICE). This coming season, she makes her debut with the Los Angeles Chamber Orchestra, Colorado Symphony, and the Orchestra of St. Lukes.
The program includes: Vivaldi's Tempesta di mare, Vasks Lonely Angel, Smetana's Die Moldau, and Sibelius's Symphony No. 2.
For Tickets
Call the University of Findlay Box Office at (419)434-5335 (M-F 8-12 and 1-5). Tickets are also available at the door the evening of the concert beginning at 7PM. Tickets are $25 for Adults, $20 for Seniors, and $10 for Students.
The Toledo Symphony
With roots as early as 1838, the Symphony sees itself as the musical heart of Northwest Ohio, supporting Neighborhood and Regional Concerts, a School of Music and three youth orchestras in addition to traditional concert offerings (Classics, Pops, Family, Mozart & More and Chamber).