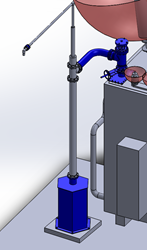 Humble, TX (PRWEB) October 23, 2014
Sentry Depressurization Systems, Inc. (Sentry DS) innovators of Fast Depressurization technology designed to help prevent transformer fires, today announced its new business alliance with Prolec GE Internacional (Prolec GE). Sentry products will now be distributed by Prolec GE and all Prolec GE transformers are built ready for a Sentry System to BOLT-ON.
In making the announcement, Bill Kendrick, President and CEO of Sentry Depressurization Systems, Inc. said, " Prolec GE is one of the worlds largest transformer manufacturers, recognized for its focus on safety. We are pleased that Prolec GE recognizes our technology as the solution of choice uniquely designed to prevent transformer fires".
The Sentry Fast Depressurization System is a proactive system designed to help prevent transformer explosions and fires from ever taking place. It is the World's only sub 6 milliseconds reaction - transformer fire prevention device. The system is completely external to the transformer. Power utility corporations are now also considering using FDS as standard equipment in the units that they procure.
Pedro Puente, Director of the Power Division in GE-Prolec, stated, "We are constantly looking for innovation and paths to include emerging technologies, Sentry's Fast Depressurization System definitively complies with our vision to help customers operate their substations with more reliable & secure transformers".
Transformers are the key component to electric power transmission, but this vital equipment is aging at an alarming rate. According to Department of Commerce data, the electric utility industry reached a peak in new installations in the U.S. around 1973-1974. Today those transformers are 40 years old. Aging transformers are prone to short circuit forces which result in explosions and fires. These failures cause a serious problem for power producers, industry, and the entire electrical grid. Replacing aging transformers would cost the electric utility industry billions of dollars. With the capital spending on new or replacement transformers at an all-time low, many companies don't have the budget to update their aging fleets.
However, as Jeffrey Berkowitz of Sentry further explained, the Sentry System can now extend the useful life of transformers by proactively preventing potential explosions and fires, associated with their age. Since Prolec GE is also dedicated to the care and maintenance of transformers they are the strategic distributor of choice, perfectly positioned to excel in sales and certified installations of our systems.
A Fast Depressurization System is recommended by the US based National Fire Protection Association (NFPA) as a method of fire protection for transformers.
About PROLEC-GE
PROLEC GE is a joint venture between the GE and Xignux, S.A. de C.V. It is one of the largest transformer manufacturers in the Americas, offering a full line of transformer products for the generation, transmission and distribution of electric power. PROLEC GE has more than 40 years of experience in the industry, with products installed in more than 35 countries around the world. For more information, please visit http://www.prolecge.com.
About Sentry Depressurization Systems
Sentry Depressurization Systems http://www.sentry-ds.com/about patented technology is the most innovative, proactive, reliable and efficient transformer fire prevention system world wide. Sentry is committed to creating a safer industry for countless generations to come.
Customers interested in learning more about Sentry's Fast Depressurization Systems can visit http://www.sentry-ds.com or contact Jerry Basore at jerryb(at)sentry-ds(dot)com.