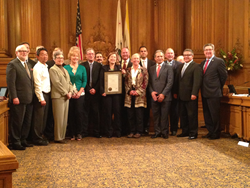 SAN FRANCISCO, CA (PRWEB) October 27, 2014
California's Seismic Safety Commission recently held two hearings to gather input from community leaders regarding earthquake preparedness and response. The first, on October 8th in Napa County, discussed the lessons learned from the August 24, 2014 6.0 magnitude South Napa earthquake. The second hearing was held the following day in San Francisco to commemorate the 25th anniversary of the Loma Preita earthquake that devastated the Bay Area in 1989.
The impact of technology on communication in the wake of earthquakes was a major focus of the discussions. Dr. Richard Allen, Director of UC Berkeley Seismological Lab and head of Berkeley's ShakeAlert Program, presented to the Commission their early warning technology that has been developed with partners like Regroup that can buy residents critical seconds during earthquakes.
Through Regroup's work with ShakeAlert on behalf of the San Francisco Mayor's Office and Department of Emergency Management, what would be the first Early Earthquake Mass Notification System when launched has been prototyped and shown to work.
The Regroup system would also enable municipalities like San Francisco to send emergency messaging in multiple languages for the first time. Addressing the SF City Ordinance that requires messaging in English, Spanish, Chinese, and Tagalog, Joe DiPasquale, CEO of Regroup, presented the company industry-leading ability to send early earthquake warnings in these languages.
Speaking to how technology can make a difference in the aftermath of an earthquake, Mayor Jill Techel of Napa shared how her city used Facebook to communicate with citizens after the earthquake and how smart phones played a role in the minutes and hours immediately following the quake. "I really think that kind of technology helps people recover more quickly, because they have more information," she said.
"I think this has become one of the most well-documented earthquakes we have seen in the last several decades," said Steve Mahin, Director for Pacific Earthquake Engineering Research Center, referencing improvements that have come about in earthquake monitoring technology.
For a live demo of Regroup's Emergency & Mass Communication System, sign up here: http://bit.ly/1DEBYNZ
About Regroup
Regroup was founded at Stanford University in 2006 to solve the need that organizations have for easy, effective multi-modal messaging. Regroup offers one-click messaging to mobile (text/voice), landlines, email, social media, websites, and more. Regroup currently serves government clients, educational institutions, non-profits and businesses. More information about Regroup's Emergency Messaging and Mass Notification System can be obtained by calling 917-746-6776 or emailing inquiries(at)regroup.com.