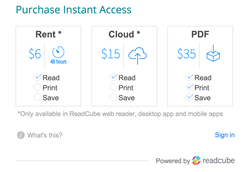 One of Wiley's goals is to ensure that our high impact content is accessible in ways that add to the productivity of researchers.
Hoboken, NJ (PRWEB) October 23, 2014
John Wiley & Sons, Inc., (NYSE:JWa, JWb), and ReadCube, a Boston-based publisher technology company, announced today the platform-wide integration of ReadCube Checkout technology across all Wiley journals.
Following the successful pilot of ReadCube Checkout earlier this year, Wiley now offers rental, cloud and downloadable article access options for the majority of journal articles - offering individual readers the choice to select the level of access that best fits their needs.
Designed to enhance the reading experience, articles purchased through ReadCube Checkout can also be viewed as ReadCube Enhanced PDFs. Readers can interact with the article via features that include annotation tools, hyperlinked in-line citations, simultaneous download of supplemental data and figures, and links to subsequent citations and online discussions of the article.
"One of Wiley's goals is to ensure that our high impact content is accessible in ways that add to the productivity of researchers," said Todd Toler, Vice President, Digital Product Management, Wiley. "Our partnership with ReadCube helps us transform the flat PDF into an innovative, next generation content experience across our journal portfolio on Wiley Online Library."
ReadCube Checkout offers journal readers on Wiley Online Library a new choice of individual access formats including 48-hour rentals (starting at $6), permanent cloud-only access (starting at $15), as well as the traditional downloadable PDF (starting at $35). Checkout options are displayed to individual users who visit Wiley Online Library outside of an institutional access package.
"We're delighted to partner with Wiley, an organization which shares our mission of enabling streamlined access to the best scholarly literature available," said Robert McGrath, CEO of Labtiva. "The combination of our technology with Wiley's vast and high-quality content serves our shared mission, accelerates the pace of research, and empowers researchers with new workflows."
View ReadCube Checkout in action on Wiley Online Library.
About ReadCube
ReadCube develops software to make the world of research more accessible and connected. The free ReadCube desktop application for PC and Mac helps researchers in any discipline easily organize and manage existing article libraries, and discover new literature through searches and personalized recommendations. ReadCube offers a suite of innovative services to publishers, including Readcube Discover, ReadCube Connect and ReadCube Checkout. ReadCube's publisher technologies have been adopted by partners such as Nature Publishing Group, Frontiers, Allen Press, DeGruyter, Palgrave, and SciELO. Harvard researchers Robert McGrath and Siniša Hrvatin founded Labtiva in 2007, which now has offices in Cambridge, MA and Zagreb, Croatia, and is supported by Digital Science, a technology division of Macmillan Science and Education. To find out more about ReadCube, visit: http://readcube.com
About Wiley
Wiley is a global provider of knowledge and knowledge-enabled services that improve outcomes in areas of research, professional practice and education. Through the Research segment, the Company provides digital and print scientific, technical, medical, and scholarly journals, reference works, books, database services, and advertising. The Professional Development segment provides digital and print books, online assessment and training services, and test prep and certification. In Education, Wiley provides education solutions including online program management services for higher education institutions and course management tools for instructors and students, as well as print and digital content.