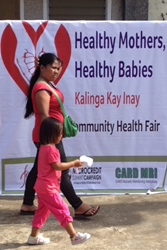 We hope that maternal mortality among CARD members will significantly decrease due to this partnership
San Pablo City, Philippines (PRWEB) October 23, 2014
At an event on October 17th in the Philippines, CARD Mutually Reinforcing Institutions (CARD MRI), the Microcredit Summit Campaign, and Freedom from Hunger launched a joint program with the aim to decrease the high maternal mortality rate in the Philippines, thus helping to address the country's poor performance on Millennium Development Goal (MDG) 5.
"Healthy Mothers, Healthy Babies: Partnering to improve maternal health in the Philippines" will reach more than 600,000 women microfinance clients by the end of 2015 by leveraging the reach of the microfinance sector to deliver vital health education and services to very poor women and their families.
The program started with more than 1,700 women attending a two-day community health fair in Palawan October 18 and 19. Microfinance clients from ASA Philippines and CARD MRI as well as women from the local community came for routine gynecological examinations and ultrasounds for pregnant women, with results provided immediately.
Cecilia, a CARD MRI client who received a loan to open a sari sari (or convenience) store after her husband had kidney failure, and her daughter, Joy Ann, came from their village for their health checkups. The health fair was Cecilia's first time ever getting a routine gynecological exam from an OB-GYN. Four general practitioners, thirteen OB-GYNs, and one sonologist provided their services at no charge. The event is the first of five community-based "Healthy Mother, Healthy Baby" health fairs planned for the project.
October 17th was also the World Day for Overcoming Extreme Poverty, and the theme for 2014 is "Leave No One Behind: Think, Decide and Act Together Against Extreme Poverty." At the launch event, Larry Reed, director of the Microcredit Summit Campaign, delivered a keynote message explaining that, in order to end extreme poverty, the system has to change.
"Part of the system that needs to be changed is the way that different types of social programs work in isolation from one another," said Reed. "As a result, we often miss the interrelationships between the challenges we face. When instead we work together on the goal of eliminating extreme poverty and its many pernicious effects, we quickly see how we need to coordinate our efforts to have maximum impact."
Dr. Jaime Aristotle B. Alip, founder and managing director of CARD MRI, said during the launch, "We are thankful for this partnership with Freedom from Hunger and the Microcredit Summit Campaign. With this partnership, we hope that we will be able to reach more socially and economically challenged Filipinos, especially those in their reproductive age. We hope that maternal mortality among CARD members will significantly decrease due to this partnership."
Economic growth in the Philippines has been very strong over the past 20 years—growing an average of more than 5 percent per year for the last 10 years according to the "Philippines Fifth Progress Report on the MDGs"—and the nation has improved in many key indicators such as life expectancy, access to education, and infant mortality. Delays in accessing medical care is a key bottleneck in achieving MDG 5, and with just under 500 days left, the timing for this collaboration to educate about and expand access to health services is critical.
###
About CARD Mutually Reinforcing Institutions
The CARD MRI is a group of mutually reinforcing institutions with a common goal of alleviating poverty in the Philippines and improving the quality of lives of the socially-and-economically challenged women and families towards nation building. Based in San Pablo City in Laguna in the Philippines, with 1,554 offices located all over the country and with liaison offices in Cambodia, Vietnam, Hong Kong, Laos, and Myanmar, CARD MRI has 2.55 million members and clients as of August 2014 throughout the country, continuously providing them holistic and integrated financial and social services that help uplift their lives and eventually transform them into responsible citizens for their community and their environment. http://www.cardmri.com
About Freedom from Hunger
Founded in 1946, Freedom from Hunger is a US-based international development organization that brings innovative and sustainable self-help solutions to the fight against chronic hunger and poverty. By partnering with local microfinance institutions (MFIs) and nongovernmental organizations (NGOs) throughout Asia, Africa and Latin America, Freedom from Hunger is reaching 5.7 million women, equipping them with resources they need to build futures of health, hope and dignity. http://freedomfromhunger.org
About the Microcredit Summit Campaign
The Microcredit Summit Campaign (the "Campaign"), a project of RESULTS Educational Fund, is the largest global network of institutions and individuals involved in microfinance and is committed to two important goals: 1) reaching 175 million of the world's poorest families with microfinance and 2) helping 100 million families lift themselves out of extreme poverty. The Campaign convenes a broad array of actors involved with microfinance to promote best practices in the field, to stimulate the exchange of knowledge and to work towards alleviating world poverty through microfinance.