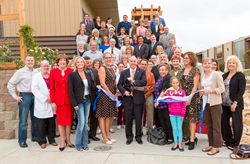 The nursing students are dedicated to their program and have an incredible work ethic.
Rocklin, CA (PRWEB) October 22, 2014
Sierra College welcomed their long-running Nursing Program back to the Rocklin campus with a Ribbon Cutting ceremony on October 14 beginning at 5:00pm. A gathering in a large room within the new Nursing Village held over 70 guests from the healthcare industry, local public agencies, and the business community. For the past 16 years, the Nursing Program has been housed at the Roseville Gateway facility. Sierra College Superintendent/President, Willy Duncan explained the positive impact of having the nursing students back on the main campus. "These are some of our best and brightest students," he commented, "they are dedicated to their program and have an incredible work ethic." Historically, the Nursing Program has averaged a 100% pass rate on the Nursing Exam.
Certificates of Recognition for the Sierra College Nursing Program were presented to Mr. Duncan from Congressman Tom McClintock's office, Congressman Doug LaMalfa's office, State Senator Jim Nielsen's office, Assemblywoman Beth Gaines' office and the office of Senator (ret) George Runner of the State Board of Equalization. Mr. Duncan recognized Kaiser Permanente for announcing they will be donating $15,000 to the Nursing program which will go toward providing students with laptop computers.
Students who earn an Associate's Degree in Nursing will soon be able to advance immediately into a Bachelor's Degree program in a seamless pathway the college recently developed with CSU Sacramento. "We are very excited to be offering this opportunity to our students through our great partnership with Sac State," Mr. Duncan added. In California, 70% of all nurses begin their education at a California community college.
Following the remarks, the large gathering was ushered outside for the ribbon cutting ceremony. Robin Trimble, CEO of the Rocklin Chamber of Commerce, kindly supplied the giant scissors that President Duncan used to officially open the new nursing village.
The event concluded with guest tours of the new classrooms led by nursing faculty members and students.
Sierra College serves 3200 square miles of Northern CA with campuses in Roseville, Rocklin, Grass Valley, and Truckee. With approximately 125 degree and certificate programs, Sierra College is ranked first in Northern California (Sacramento north) for transfers to four year Universities, offers career/technical training, and classes for upgrading job skills. Sierra graduates can be found in businesses and industries throughout the region.