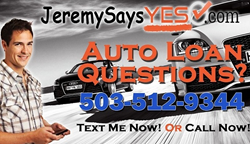 Carz Planet for the Best Cars on the Planet
Portland, Ore. (PRWEB) November 20, 2014
Family owned used car and truck dealership, Carz Planet is now working with Jeremy Rich of JeremySaysYes in Portland to provide more efficient financing solutions for those who have bad credit.
For over ten years, Carz Planet has specialized in selling the best used cars, diesel trucks, and sports utility vehicles for car owners and buyers throughout the Bend, Salem, Eugene, Oregon Coast, Portland Metro and Seattle areas. It is most known for its access to over 1000 automobiles, its growing selection of hard to find 7.3L Ford and 5.9L Cummins Dodge diesel trucks, and its 90 days or 3,000 miles power-train service contract warranty on most vehicles.
According to Rich, it is difficult for many students, military, and self-employed people to attain proper loans for most used car sale transactions. Even those who are recently divorced or are even buying a car for the first time are more likely to be turned down for financing due to poor credit scores. Rich confirmed that JeremySaysYes strives to be the most understanding of such situations and works to providing an immediate financial solution for all interested parties.
"We pride ourselves on being the best used car and truck dealerships in Portland," stated Rich. "We have the nicest, cleanest, most popular selection of vehicles, coupled with more financing options than any other independent used car dealership in Oregon."
Carz Planet plans to continue to work with JeremySaysYes to ensure hassle free car buying experiences.
For more information about Carz Planet, please visit Portland Used Car Dealers. Additional information about JeremySaysYes and its financing options is available at Bad Credit Auto Loans Portland. We also pay cash for junk cars at Cash For Junk Cars Portland NW