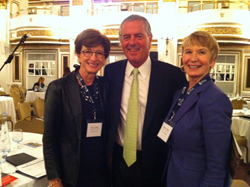 "To be eligible for membership, firms and brokers must list and sell in the top 10 percent of their market and demonstrate expertise in the marketing and sale of luxury properties." - John Brian Losh
Austin, TX (PRWEB) October 24, 2014
KW- Austin Portfolio Real Estate's Mona Crum and M.E. Cook represented the firm at the 19th Annual Luxury Real Estate (LRE) Fall Conference in Boston, MA, October 5-8, 2014 at the Fairmont Copley Plaza. The annual meeting of some of the world's most prominent REALTORS® included expert panel discussions, seminars and an award ceremony
KW-Austin Portfolio Real Estate is thrilled to have participated in this year's conference and honored to have Austin's only nominee in this year's awards – one of only four nominees in the state of Texas. The Shannon Schmitz Group was nominated in the categories of Best Print Marketing and Best Website.
Known in the industry as the Who's Who in Luxury Real Estate, Luxury Real Estate (LRE) members are an exclusive set of professionals who have attained the highest level of achievement among their peers. The 19th Annual Fall Conference was held in Boston and hosted by Luxury Real Estate Chairman/Publisher, John Brian Losh.
Expert panelists and leaders of the industry, including keynote speakers Kipp Bodnar, Vice President of Marketing for HubSpot, and Kermit Baker, Senior Research Fellow at the Joint Center for Housing Studies at Harvard University, discussed current market trends, innovative technologies and bold new steps in the world of luxury real estate.
The award ceremony also honored Saul Cohen, president and co-founder of Hammond Residential Real Estate, with The Luxury Real Estate Lifetime Achievement Award. See the full list of Who's Who In Luxury Real Estate 2014 Nominees.
Luxury Real Estate (LRE) represents the best of the best in the world. Its network extends over 85 countries and includes every top luxury market in the world. LRE is the #1 website for consumers searching for luxury real estate on Google. See the full list of Who's Who In Luxury Real Estate winners.
"To be eligible for membership, firms and brokers must list and sell in the top 10 percent of their market and demonstrate expertise in the marketing and sale of luxury properties." - John Brian Losh