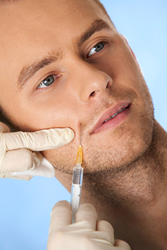 Men don't see a taboo in treatments, and they understand the importance of maintaining their youthful look.
(PRWEB) October 22, 2014
Men – particularly younger men – represent a growing but largely untapped segment of the cosmetic skin treatment market, a dermatologic surgeon who specializes in male aesthetics said recently.
"Treatments are not just for women," Terrence Keaney, M.D., a member of the American Society for Dermatologic Surgery said at a recent ASDS event highlighting trends and news in dermatologic surgery. "So many people think men aren't interested in these procedures. They are interested, especially once they're exposed to them."
Keaney – an associate dermatologist at the Washington Institute of Dermatologic Laser Surgery in Washington, D.C., who helped launch the practice's W for Men center – said he sees the knowledge gap daily.
More than 500 men came to the W for Men center in its first year. The average patient age was 39.3, compared to the late 40s and early 50s for women getting cosmetic treatments, Keaney said.
"Younger men have grown up taking selfies and seeing photos of themselves in social media," he said. "They don't see a taboo in treatments, and they understand the importance of maintaining their youthful look."
Patient Andrew Giordano, 32, came to Keaney initially for laser hair removal treatments. "That gradually evolved, and now he's getting Botox injections," Keaney said. "Andrew didn't even know about Botox when he first came to me."
Because of Keaney's advanced training, Giordano trusted him to go ahead with laser treatments for neck hair that grew back too quickly after a haircut.
"There was an educational period," said Giordano, who explained that his finance job requires frequent contact with clients around the globe. "I trust Terrence. He's a brilliant doctor." Giordano – a Washington, D.C., native and resident – is a client relations manager in an investment management firm.
He was pleased with the results of removing hair from his neck and a bit off the "wings" of his back. Then he and Keaney began discussing other procedures, including Botox injections. He had a "light" treatment done 2012 and again in summer 2014. "I'm more confident," Giordano said. "I feel like I look better and that leads me to present myself better."
The percentage of men seeking soft-tissue filler treatments rose to 10 percent of the total in 2013 from 8 percent in 2012, according to the ASDS Survey on Dermatologic Procedures. Neuromodulator treatments stayed steady both years with dermatologic surgeons reporting 11 percent of their patients were men. "At least some men are tuning in," Keaney said.
Keaney said he would like to see the word about treatments get out to this huge potential market. "Physicians aren't educating men, and men themselves aren't receiving the information they need. There's a vast, uneducated captive male audience that we as physicians and media need to do a better job of reaching."
Giordano believes there are many men like him out there, ready to learn how skin treatments can improve their looks and self-confidence. "In three to five years, we'll see a lot more men doing this," he said. "I think we'll see a massive spike."
About ASDS
The American Society for Dermatologic Surgery (ASDS) is the largest specialty organization exclusively representing dermatologic surgeons who have unique training and experience to treat the health, function and beauty of your skin. ASDS members are pioneers in the field. Many are involved in the clinical studies that bring popular treatments to revitalize skin and fill and diminish wrinkles to the forefront. Their work has helped create and enhance many of the devices that remove blemishes, hair and fat, and tighten skin. Dermatologic surgeons also are experts in skin cancer prevention, detection and treatment. As the incidence of skin cancer rises, dermatologic surgeons are committed to taking steps to minimize the life-threatening effects of this disease. For more information, visit asds.net.
Website: http://www.asds.net
Follow ASDS on Twitter: http://www.twitter.com/ASDSSkinExperts
Become a fan of ASDS on Facebook: https://www.facebook.com/ASDSSkinExperts
Locate a dermatologic surgeon in your area: http://www.asds.net/findadermatologist.aspx
Contact:
Beth Bales, Communications Manager
American Society for Dermatologic Surgery
847-956-9143