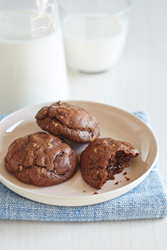 "Everyone loves desserts, but desserts do not have to be time-consuming or large to be impressive," says Fenster.
denver, co (PRWEB) October 28, 2014
Carol Fenster, a pioneer in gluten-free cooking, helps time-challenged cooks prepare delicious desserts in less than 30 minutes with her new cookbook—100 Best Quick Gluten-Free Recipes (Houghton Mifflin Harcourt, October, 2014).
FENSTER'S TWO TIPS: MAKE AHEAD AND THINK SMALL
"Everyone loves desserts, but desserts do not have to be time-consuming or large to be impressive," says Fenster. "Instead, small desserts—like these Chocolate Refrigerator Cookies—are equally mouthwatering and decadently delicious. No one needs to know the two secrets behind this dessert: make ahead and think small," says Fenster, who regularly posts time-saving recipes at her blog at http://www.CarolFensterCooks.com.
MAKE AHEAD
Fenster says that savvy cooks recognize the importance of the first tip: make ahead. For this Chocolate Refrigerator Cookie that means preparing the dough ahead of time, refrigerating it (hence the name, Chocolate Refrigerator Cookie), and baking it within three days. Or, with the holidays just around the corner the dough can also be frozen for up to a month, and then baked for everyday or a special event.
THINK SMALL
The second tip to quick desserts is: think small. In these cookies, the dough is rolled into two 1 ½-inch logs before chilling or freezing. At baking time, ½-inch slices are cut from a log and placed on the baking sheet. Or, for perfectly-round cookies, Fenster shapes the dough into walnut-size balls before chilling or freezing. Either way, pre-shaping the cookies shaves precious time from the final minutes of baking.
"The payoff of making ahead and thinking small," says Fenster, "is that the final steps of dessert preparation—in this case, baking the cookies—happen quickly because the cookies are small and bake a lot faster than larger desserts such as a full-size Bundt cake that bakes for nearly an hour. In fact, even if the dough is frozen, these cookies bake in only about 12 minutes." So, she adds, even though the total preparation time of these cookies is about 20 minutes, the work steps are broken up into manageable parts that the even the busiest of cooks can easily handle.
Fenster says refrigerator cookies care very versatile. They can be baked earlier in the day of the party or event, or—as she often does at her own dinner parties—place the chilled or frozen dough on a baking sheet before guests arrive so that the cookies can quickly bake during dinner, sending an enticing aroma that signals a delicious dessert to come. These cookies are also ideal for holiday buffet tables where they can be easily consumed by guests who are standing up, without utensils. And, for grain-free diners, coconut flour or almond flour can be used instead of sorghum flour.
Fenster's book contains other quick desserts, plus main dishes and breads for a total of 100 recipes with color photos to show how the finished dish looks. Each recipe offers nutrient content and indicates whether the dish is vegetarian. A set of creative menus shows how to combine entrees, sides, and desserts for a variety of different meals so everything looks good and tastes good together. 100 Best Quick Gluten-Free Recipes is Fenster's 12th cookbook and is available at Amazon, Barnes&Noble, and the publisher Houghton Mifflin Harcourt.
This new book joins Fenster's other award-winning cookbooks— Gluten-Free 101, 1,000 Gluten-Free Recipes and 100 Best Gluten-Free Recipes, all from Houghton Mifflin Harcourt. She will demonstrate and serve recipes from her book on Thursday, November 13, at 6 PM at the Bookworm Bookstore in Edwards, CO.