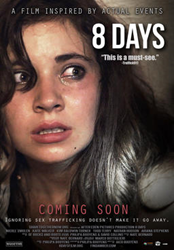 God is raining an army of entertainers.
Atlanta, Ga. (PRWEB) October 22, 2014
Actors, Models and Talent for Christ is a talent-development ministry that provides aspiring talent with professional direction, VIP introductions and spiritual preparation so they can SHINE for Christ in the entertainment industry.
Founded in 1982, AMTC is a ministry operated by three generations of one family. The organization trains performers in both improving their gifts and reflecting Christ, specifically in the entertainment industry. AMTC offers training programs and a biannual six-day conference, SHINE, in Orlando, Fla. The conference hosts no fewer than 60 agents, managers, casting directors, and music industry scouts at a performer/VIP ratio of 10-to-1. Professionals come from cities around the world to recruit new talent and offer one-on-one advice to AMTC performers.
Nov. 1 and 3 auditions will be hosted by Adam She, Jaco Booyens and John Montes, respectively. The Chattanooga and Tulsa auditions will be on Saturday at 9:00 a.m. and 1:00 p.m., and Huntsville auditions will be on Monday at 3:00 p.m. and 7:00 p.m.
AMTC's President Adam She is an international Christian leader whose goal is to find, prepare and lift God's talent to influential positions in the entertainment industry. He says, "Bad is bold in the entertainment industry, so good must be bolder." The organization believes that it is time for God's stars to stand up the stages of film, fashion, music and theatre, and AMTC is a launching pad for performers to become positive role models in every area of entertainment.
Jaco Booyens is a worldwide speaker on the role of Christians in entertainment. He and his wife, Philipa, own After Eden Pictures. Most recently, Jaco directed the film "8 Days." This just-released movie centers around modern-day slavery, raising society's awareness of human trafficking. Jaco believes that God is raising an army of entertainers: "performers anointed to become positive role models, to become stars for God," he says.
This Huntsville auditions will be hosted by singer John "Jontez" Montes. He served as the Director of the NFL Player's Gospel Choir which has opened up for Tim McGraw at the new Dallas Cowboys Stadium. During the 2013-14 season, Montes appeared on NBC's "Sing Off" with the a capella group"Ten." He is currently an AMTC Coach, and singer on the Marcus & Joni Show.
In order to sign up for an AMTC audition or view frequently asked questions, please visit http://www.amtcworld.org. To receive regular updates about the ministry, follow AMTC on Facebook and Twitter.