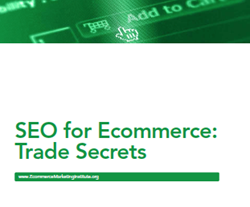 Naperville, IL (PRWEB) October 22, 2014
The Ecommerce Marketing Institute announces the publishing of a new guide to help Ecommerce brands and websites improve search engine results. Titled SEO for Ecommerce: Trade Secrets, the 13-page resource is available to both institute members and non-members without charge.
The guide identifies the top 3 key SEO mistakes committed by Ecommerce websites, a 7-point SEO checklist, along with several SEO tools and resources for analyzing search authority. Mistakes include poor social media execution, lack of a mobile website version, and slow website speed.
The SEO checklist includes details on meta coding, URL structure and redirects, site maps and robots.txt, product descriptions, duplicate content, reviews, the use of paid search, and ongoing (SEO) maintenance.
"With frequent search engine algorithm updates wreaking havoc on Ecommerce websites, SEO becomes mission critical to success," states Neil Brown, Executive Director of the Ecommerce Marketing Institute. "This guide identifies the SEO tools and techniques required to ensure organic or natural search authority."
For a complimentary PDF of SEO for Ecommerce: Trade Secrets, download here.
###
About the Ecommerce Marketing Institute (EMI)
The Ecommerce Marketing Institute is an educational platform and resource for online retailers, brands and marketers including training programs, industry information and resources. For more information please visit, http://www.ecommercemarketinginstitute.org, our Ecom Blog, Facebook, LinkedIn, YouTube, Twitter, and Google+. Or email and call Neil Brown at 630-868-5061, info(at)EcommerceMarketingInstitute(dot)org.