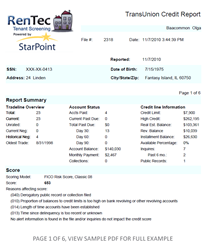 The security of our users data is a top priority, when it comes to data security we take all prudent measures to ensure we have no issues
Grants Pass, OR (PRWEB) October 22, 2014
Rentec Direct property management software assures that their websites and data are not vulnerable to the poodle vulnerability. Literature has been released about a newly discovered vulnerability in an old version of the SSL protocol representing a threat to the large number of web servers and web browsers that support this outdated technology. This vulnerability reported on October 14, 2014 is in some regards similar to the Heartbleed vulnerability https://www.us-cert.gov/ncas/alerts/TA14-290A. This bug is not nearly as severe and requires access to the network between the client and server to extract data. However, one potential avenue of attack could be through a public Wi-Fi hotspot.
Rentec engineers subscribe to security lists to keep informed of any threats to the industry, and the moment this vulnerability was made public Rentec's engineers immediately went to work to verify the integrity of the websites and the data. Rentec Direct is pleased to announce that even though this bug is wide-spread, the engineers have confirmed the bug is not present within the Rentec systems and that all data is absolutely safe. This is because the versions of the open ssl application that possessed this vulnerability is not used by Rentec's secure servers. The version Rentec utilizes does not contain the vulnerability. Even beyond this first level of encryption, Rentec deploys a secondary level of encryption which is also not affected by this bug to safeguard the most sensitive data.
Following the advice of many industry professionals, Rentec recommends using caution when entering any private information (including usernames and passwords) on any websites that have not already confirmed that they have patched their system to prevent this vulnerability or were not affected. For any websites which were affected, it would be wise to change passwords for those services. It's always a terrific idea to use a different password for each online service utilized.
Nathan Miller, founder of Rentec Direct stated, "The security of our users data is a top priority, when it comes to data security we take all prudent measures to ensure we have no issues."
To learn more about Rentec Direct or to obtain a 30-day full featured free trial of the software, visit http://www.rentecdirect.com/
About Rentec Direct 
Rentec Direct provides cloud based rental software solutions for property managers and landlords. Other popular solutions offered by Rentec include tenant ACH payment processing, tenant screening, and online syndication of vacancies to more than twenty popular websites.