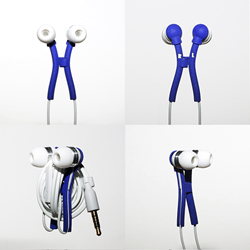 My goal was to design a simple cord management device that was built into the earbuds themselves
Boston, MA (PRWEB) October 23, 2014
Boston-based startup Bundle Buds recently debuted its inaugural product, a stylish pair of truly tangle-free earbuds. The unique all-in-one Bundle Buds design allows users to wrap the cord around the earbuds themselves and a custom clasp ensures the Buds stay neatly bundled while not in use. Today, Bundle Buds is launching a 30-day Kickstarter campaign, giving customers the opportunity to purchase Bundle Buds at a discounted price while contributing to the company's fundraising goal.
Bundle Buds were developed as a solution to the frustration of tangled earbud cords. "The idea for Bundle Buds came to me during my daily commutes to work on the T," said RJ Long, the creator of Bundle Buds. "Every time I pulled my earbuds out of my pocket, I would have to unwind a mess of tangles and knots. I knew there had to be a better way to store my buds."
After searching for solutions to this daily problem, Long realized that there were no products on the market that addressed the issue to his satisfaction. As a serial inventor and entrepreneur, he decided to leverage 3D printing technology to build his own custom solution. According to Long, "My goal was to design a simple cord management device that was built into the earbuds themselves."
Long and the Bundle Buds team spent months optimizing their first product, which consists of a high quality pair of earbuds with a built in microphone and the proprietary Bundle Buds cord management technology. Bundle Buds are offered in 9 colors, with either black or white earbud cords. The product is available for purchase for $17 through the company's website (http://www.bundlebuds.com), and with today's Kickstarter launch customers can get a pair for $15. In addition, the company has incorporated its cord management technology into a product that can be added onto existing Apple EarPods. This tangle-free add-on is exclusively available through Kickstarter.
Bundle Buds will use the funds raised through Kickstarter to protect the company's intellectual property, improve the manufacturing process, and expand the product offerings. In addition, the company hopes the campaign will demonstrate demand for the product. "Ultimately, we hope that the Bundle Buds technology will be incorporated in with a major electronics manufacturers' earbuds. The Kickstarter campaign will help us show that people truly want a solution for tangled earbuds that just doesn't exist in the current marketplace," says Long.
For more information, please visit http://www.BundleBuds.com
About Bundle Buds
Boston-based Bundle Buds, LLC. provides affordable tangle-free ear buds designed for everyday use.