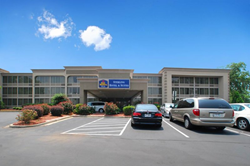 "We are deeply thankful for the appreciation and love shown to us by our customers in Charlotte."
Charlotte, NC (PRWEB) October 22, 2014
Greenbee Parking, the young and dynamic parking service, has proven once again that it is one of the top choices for more Americans every day. In the latest CLT airport parking reviews by their clientele they have been appreciated for their modern and innovative parking options for all kinds of parking needs, at a fraction of the usual airport parking costs. The young entrant to the airport parking industry has offered state of the art options for travelers who can now book their space online in a matter of seconds and secure a safe and preferred spot for their vehicles at very affordable rates. Their exclusive deals for travelers using the Charlotte (CLT) airport have further simplified parking options and erased all hassles like airport rush or worry. These deals are incredible for those who are frequent fliers who can now see considerable change in their travel budgets. But they have great rates for short term bookings as well which has led to such rave reviews.
"We are deeply thankful for the appreciation and love shown to us by our customers in Charlotte," said Christine Cooper – Marketing Coordinator, Greenbee Parking. "We have always aimed at keeping our customers first and profit second. The CLT airport parking reviews prove that we have been successful in this endeavor. They have also motivated us to do even better and come up with more upgrades in the future."
Charlotte/Douglas International Airport Parking Information
The Charlotte/Douglas International Airport is a busy airport which sees non-stop flights going out and coming in from over 175 cities globally and nationally. While, Charlotte is a major financial hub in the country, affordable and good standards of living have made the city and the suburbs around it a preferred place to stay in recent years. There has also been a rise of businesses and hence jobs in the area which has led to rise in population as well as travel figures. Apart from this, the state attracts a fair volume of tourists round the year and CLT as a major airport bears the brunt of this volume as well. Expansion plans for the airport have been in progress for some time now, with parking as a special focus. Public efforts for the same have been complemented with private ones like Greenbee Parking service, which has come up with easier bookings at cheaper rates. Their robust services have added to their popularity which is amply reflected in the latest CLT airport parking reviews.
The Greenbee Airport Parking Solution
Greenbeeparking.com is the connection between consumers and parking vacancies in close proximity to major airports and seaports. The parking spaces are very affordable because the company has negotiated discounted rates with major hotel chains for the parking spaces that are not currently occupied. Here's how it works.
Greenbee Parking puts the available inventory of parking spaces on their website to be reserved by business and leisure travelers looking for cheap airport parking. This alternative method for finding parking equates to significant savings for the traveler. You can learn more about their offers from (http://youtu.be/RWc3dqhugFA) or via the web at http://www.greenbeeparking.com.
About Greenbee Parking
Greenbee Parking is the nation's most innovative long term parking company, with a new way of making long term parking affordable. The company is rapidly adding new airports to its network.