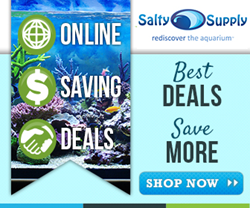 The best vehicle to get medication into a fish is through their food
Altamonte Springs, FL (PRWEB) October 22, 2014
When it comes to quality of life for fish, the type of food they are being fed is crucial to health and survival, and thanks to a new offering by Salty Supply, fish owners now have the ability to get high quality marine fish foods at an affordable price.
"Salty Supply is taking the next step in providing customers with high quality marine fish foods by offering high quality refrigerated foods from Dr. G's Aquaculture," said Richard Gilliland, ceo and spokesman for Salty Supply, an online retailer of discount aquarium supplies.
Gilliland explained that what so unique about Dr. G's caviar, artic copepods and brine shrimp eggs, is that they can be left unrefrigerated for up to two weeks, which allows Salty Supply to ship ground service and keep retail prices low.
"By providing high quality refrigerated foods, along with 2,000 other quality dry goods, this allows us to provide a shopping experience you won't find at other big box retailers," Gilliland stressed, before adding, "Dr. G's also provides medicated foods which are unique to this product offering."
An example of the new products Salty Supply is offering is Dr.G's Anti-Bacterial Caviar eight-ounce, refrigerated liquid.
The product treats all fish infections that are caused by bacteria like dropsy, ulcers and much more, and is recommended for freshwater, marine aquariums, and ponds. It's reef safe and will not affect a biological filter.
According to its description, the product effectively treats "hole-in-the-head" protozoal infestation, hexamita, mouth fungus, popeye, fin and tail rot, septicemia, dropsy and ulcers.
Gilliland went on to point out that there are numerous types of bacteria that cause infections in fresh and saltwater fish.
Antibiotics, he noted, are the drugs of choice to eliminate bacteria, but no single antibiotic works for them all.
Dr. G's includes an antibiotic combination that provides a broader spectrum of antimicrobial activity that is extremely effective against a wide variety of bacterial infections, the product's description says.
It adds that, "The best vehicle to get medication into a fish is through their food, not through the water they swim in. Our unique formula provide the efficiency of two excellent Antibiotics plus the premium nutritional value of Dr. G's Caviar MAX, made with the finest and freshest ingredients."
For more information, please visit: http://www.saltysupply.com
###
About Salty Supply
Salty Supply is an online retailer of discount aquarium supplies selling thousands of products including protein skimmers, filters and reactors, lighting equipments, plumbing supplies and much more.
They ship their products worldwide through UPS and USPS Express.