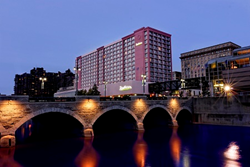 "We want our customers to know that we can live up to their expectations of quality and price...."
Rochester, NY (PRWEB) November 04, 2014
Greenbee Parking has revealed a series of new deals for all travelers who use the Rochester (ROC) airport. The young provider has made a name for themselves fast, due to their incredible parking options. Now they have come up with even better options that will allow one to secure a great spot, for as long as they want, without surpassing their parking or travel budgets at all. What's more, these deals are going to be available round the year so its savings any time you wish without having to hunt for Rochester airport parking coupons or other similar offers in order to save on expenses. They have also become synonymous with advanced parking services since they are constantly coming up with new ideas and inventive ways to make better use of bookings for every Greenbee customer.
"We want our customers to know that we can live up to their expectations of quality and price without any conditions attached," said Christine Cooper – Marketing Coordinator, Greenbee Parking. "They don't have to depend on Rochester airport parking coupons or desperately hunt for bargains to save on these recurring expenses whenever they park and travel for we are here to ease their burden round the year. We hope to come up with more expansive deals in the future which can cater to our ever growing list of customers without increasing the rates."
Greater Rochester International Airport Parking Information
Greater Rochester International Airport sees a lot of traffic round the year, for both business and leisure travel. Though not in the major airport league, it is witnessing an increasing volume of business for multiple regions across Greater Rochester along with Orleans and Livingston, Monroe and Wayne, and other major Ontario counties. Along with high volume of passenger footfalls it also sees a lot of freight activity for these regions. Naturally, this has led to increasing ground traffic and rising demands to expand the airport parking in order to facilitate the volume of vehicles that converges here. Parking expansion projects for ROC has witnessed both public and private efforts, including key players like Greenbee Parking. They have become popular for their incredible deals that can surpass all Rochester airport parking coupons and yet deliver cheaper options every time.
The Greenbee Airport Parking Solution
Greenbeeparking.com is the connection between consumers and parking vacancies in close proximity to major airports and seaports. The parking spaces are very affordable because the company has negotiated discounted rates with major hotel chains for the parking spaces that are not currently occupied. Here's how it works.
Greenbee Parking puts the available inventory of parking spaces on their website to be reserved by business and leisure travelers looking for cheap airport parking. This alternative method for finding parking equates to significant savings for the traveler. You can learn more about their offers from (http://youtu.be/RWc3dqhugFA) or via the web at http://www.greenbeeparking.com.
About Greenbee Parking
Greenbee Parking is the nation's most innovative long term parking company, with a new way of making long term parking affordable. The company is rapidly adding new airports to its network.