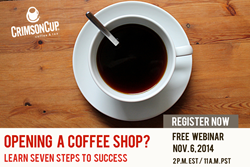 If you've ever considered opening a coffee shop, this is the webinar for you. In just an hour, we'll introduce everything you need to know. - Greg Ubert, founder and president, Crimson Cup Coffee & Tea
Columbus, Ohio (PRWEB) October 22, 2014
Ohio coffee roaster Crimson Cup Coffee & Tea will reveal secrets to coffee shop success at a live webinar on Thursday, Nov. 6 at 2 p.m. EST.
In this no-cost webinar, company leaders will deliver insider insight developed over 23 years as a specialty coffee roaster and coffee franchise alternative. Anyone who owns or is thinking about opening a coffee shop is invited to register using this link.
"If you've ever considered opening a coffee shop, this is the webinar for you," said Greg Ubert, founder and president. "In just an hour, we'll introduce everything you need to know."
Ubert is the author of Seven Steps to Success in the Specialty Coffee Industry. The proven steps outlined in his books form the basis of Crimson Cup's coffee shop franchise alternative program, which has helped more than 250 independent coffee shops in 28 states start and maintain successful businesses. As outlined in Ubert's book, the steps include:
Step One: Focus on the Location. Choosing the right location is the first – and most important – step in opening a coffee shop. Crimson Cup will share tips for finding the perfect home for a new coffee business, as well as a formula for pricing rent.
Step Two: Focus on Efficiency of Equipment Layout. The ideal coffee bar layout fits into the choreography of the business and can boost profits by 20 percent or more. The webinar will discuss efficient placement of the menu, cash register, espresso machine and other coffee bar elements.
Step Three: Focus on Proper Ingredients and Equipment. "Today's specialty coffee consumer demands top quality," Ubert said. "Since quality ingredients cost only pennies more per serving, it's illogical not to buy the best." Crimson Cup will share tips for sourcing quality ingredients and choosing top-notch equipment to keep business brewing.
Step Four: Focus on The Marketing. Many coffee shop owners neglect this vital function because they don't know where to start or are put off by the perceived expense. Crimson Cup will share grassroots marketing ideas that drive business without breaking the bank.
Step Five: Focus on Training. "Thorough training for both owners and baristas is one of the most critical factors in starting and running a successful coffee house," Ubert said. "It's so important that we offer comprehensive training at no additional cost to new business owners." In the webinar, Crimson Cup will discuss elements of an effective training program for owners and staff.
Step Six: Focus on Customer Service. "Great customer service doesn't occur in a vacuum. It's tied to other Steps such as Training and Layout," Ubert said. Crimson Cup will share tips for tying everything together to provide a "Wow" customer experience that drives repeat and word-of-mouth traffic.
Step Seven: Focus on Cleanliness. In the final step, attendees will learn how to turn cleanliness into a competitive advantage.
The webinar is just another way that Crimson Cup supports the community of independent coffee houses. "Education, sharing knowledge and training are a huge part of what we do," Ubert said. "We developed the Seven Steps program as an alternative to expensive coffee franchises because we have a passion for helping independent coffee shops succeed."
When Crimson Cup's customers thrive, so does the company. "We strive to be partners more than vendors," he said. "Success is a team effort."
About Crimson Cup Coffee & Tea
Since 1991, Crimson Cup Coffee & Tea has hand-roasted specialty coffee in Columbus, Ohio and taught independent business owners how to be successful through its coffee shop franchise alternative program. Sustainably sourced Crimson Cup coffee is available through a network of more than 350 independent coffee houses, grocers, college and universities, restaurants and food service operations across 28 states, as well as the company's own Crimson Cup Coffee House in the Columbus suburb of Clintonville. For more information, visit crimsoncup.com.