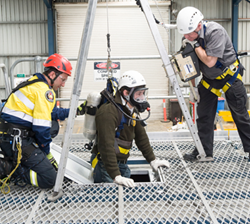 In 2013 the company provided this specialised training to over 35,000 people
(PRWEB) October 23, 2014
Fire & Safety Australia has for 8 years trained Australians in rescue and safe work practices. The company has now made it easier for businesses to have their staff receive confined space training by Fire and Safety Australia with the addition of confined space training trailers to its delivery options.
In 2013 the company provided this specialised training to over 35,000 people, educating them about the hazards that may exist within a confined space, how to put a rescue plan in place, and how to conduct a rescue.
Australia Wide Training
"We have training facilities all over Australia, and most of our trainees undertake their confined space training at our Melbourne, Brisbane, Sydney, Perth, Adelaide and Darwin locations" said Steve McLeod, Director of Fire & Safety Australia. "But where suitable training areas may not exist at a client's site, we bring the training to them so that workers can train in a real workplace situation."
"To make it easier for companies without suitable on-site training facilities, we now have four Confined Space Training Trailers that allow us to deliver, in a realistic and safe environment, confined space entry activities" said Mr McLeod. "Each trailer has been designed to replicate confined space rescue and training scenarios."
The trailers are over 4.0 metres long and 2.0 metres high, and can be taken anywhere in Australia, even to very remote worksites. Fire & Safety Australia has 4 of these trailers across Western Australia, New South Wales, South Australia and Queensland.
"Being able to bring practical training to our clients in this way has added a new dimension to our service delivery, particularly in such an important area" Mr McLeod continued.
Confined space training is now a prerequisite for employment in many roles in Australia's mining, oil & gas, industrial, and manufacturing industries. It is an important element in Fire & Safety's Manufacturing Training Package and Resources and Infrastructure Training Package.
It is delivered over a 3 day period, covering both practice and theory, including a breathing apparatus training module which focuses on the rescuer's safety while undertaking a rescue. It is in accordance with OHS Regulations and Australian Standard 2865-2009.
About Fire & Safety Australia
Fire and Safety Australia Pty Ltd is registered Australian company that provides nationally recognised training in all Australian states and territories. Its training team has a combined 300+ years of Emergency Services and Safety experience.
The company tailors its training courses to the requirements of clients' sites, and ensures that a significant part of the training is 'hands on' practical rather than purely theoretical. As well as confined spaces rescue training, it has a full suite of safety and fire training programs that range from First Aid Training through to Tower Rescue Training.
Fire & Safety Australia's consultancy services include developing workplace emergency procedures, safety audits and risk assessments.
More information is available at http://www.fireandsafetyaustralia.com.au