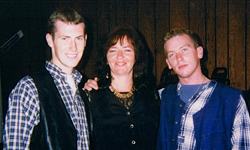 Brooklyn, New York (PRWEB) October 28, 2014
On Friday, October 24, the Peggy Lillis Foundation, a nonprofit organization dedicated to building a nationwide Clostridium difficile awareness movement, hosted its 5th Annual FIGHT C. DIFF Gala at Dyker Beach Golf Course in Brooklyn, New York. The event brought together supporters, patient safety advocates, corporate leaders and community members for an exciting evening which included honoring Congresswoman Rosa DeLauro (D-CT), Dr. Bruce Hirsch and Dr. Gerard Honig, and the family of Judy Dexter, who lost her life to a C. diff infection in May 2013. The Gala raised more than $55,000 to support PLF's mission of C. diff education and advocacy.
The Foundation presented Congresswoman DeLauro with its Lifetime Achievement Award for her longstanding support of public health and medical research at the federal level. "We are grateful to Congresswoman DeLauro for a quarter century of work on healthcare, with particular devotion to women's health, food and drug safety, and prevention of antibiotic overuse," says Christian John Lillis, executive director of the Peggy Lillis Foundation. "As an ovarian cancer survivor and legislator, the congresswoman serves an inspiration to all Americans who care about public health."
"I have immense respect for the mission and work of the Peggy Lillis Foundation," says Congresswoman DeLauro. "Transforming grief into informed action shows courage and vision. They have led the way in education and coalition-building. Their advocacy will save lives."
"We are finally seeing an increase in public awareness of C. diff.," adds Lillis. "Clinical research is intensifying on promising new therapies, including new modes for fecal transplant delivery. And advocates are emerging all over the country."
Two developers of a novel treatment method, Drs. Gerard Honig and Bruce Hirsch, received the Foundation's inaugural Innovator Award for developing a fecal transplant capsule that proved successful in clearing up C. diff. in 20 of 23 patients in an early test.
Dr. Hirsch said, "It is a great honor to receive recognition from the Peggy Lillis Foundation for our work treating Clostridium difficile. The tragedy of this common infection was compelling to evaluate and begin to use the most unlikely therapy an infectious disease doctor could imagine. We all have to do whatever it takes to make this a safer and healthier world."
"Since 2013, I have had the opportunity to work with Dr. Hirsch to develop innovative treatments for patients suffering with C. difficile infection. This has been the most rewarding experience of my scientific career. I am particularly grateful for the Innovators Award. This moving recognition will motivate us to do as much as we can to alleviate suffering as quickly as possible," added Dr. Honig.
PLF presented its first-ever Advocates Award to the Dexter Family. The Maryland family started a picnic fundraiser in 2014 to memorialize their late wife and mother Judy, a victim of C. diff. They are determined to raise awareness about the epidemic.
Judy's husband, Charles Dexter, said, "As Judy was losing her fight with this terrible disease, her family knew something more could be done. We have learned so much about how thousands of families have suffered and lost love ones by not knowing the virulence of this terrible scourge. The awareness and education that the Peggy Lillis Foundation provides is an inspiration to true Christian altruism. All of Judy's children came together to bring the awareness of C. diff through her memorial picnic. We are honored that Judy's annual Memorial picnic can help the cause to fight C. diff."
In his remarks, PLF's co-founder, Liam Lillis summarized the honorees contributions: "Each of our honorees tonight represents a key aspect of this fight: individual and family advocacy, innovative healthcare research and smart public policy. The family of Judy Dexter is an amazing example of advocacy on behalf of a loved one stricken with C. diff. Both while Judy was fighting and after she lost her battle against C. diff, they have exemplified the care, compassion, and grit that we need in this fight. Dr. Bruce Hirsch and Dr. Gerard Honig are a leading clinical and research super-team. They have taken fecal transplants, an effective, if somewhat icky, treatment for C. diff and, by moving from enema and nasal gastric to pill delivery, made it easier to swallow. And Representative DeLauro's decades long leadership in public health embodies the best our Congress has to offer."
This year's FIGHT C. DIFF Gala was made possible, in part, by the following sponsors: Cubist Pharmaceuticals, Sanofi Pasteur, Synthetic Biologics, Meridian Bioscience, Xenex, Seres Health, and the United Federation of Teachers.
About Clostridium Difficile
An epidemic that claims the lives of more than 28,000 Americans every year, C. diff. infects almost 500,000 in the U.S. annually. That's one infection every minute. Deaths linked to the disease, have increased an average 30 percent per year throughout the last decade. Clostridium difficile is a disease associated with antibiotics that make the body vulnerable to bacterial infections. C. diff. can be transmitted between people by both feces and food. C. diff. flourishes in hospital and long-term care settings, to which 90 percent of cases can be linked.
About the Peggy Lillis Foundation
The Peggy Lillis Foundation was established in memory of the Brooklyn kindergarten teacher and mother of two who died suddenly in April 2010 following a brief bout with C. diff. The foundation works toward a world where C. diff. infections are rare, treatable, and survivable. To join us in the fight against C. diff, please visit http://www.peggyfoundation.org.
# # #