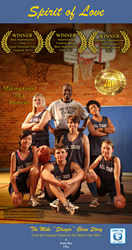 Director of "Spirit of Love", Darla Rae, said, "We've had great response from audiences at several film festivals. We are really excited to be working with IAMflix.com who will bring our film to a much larger audience around the world."
Frederick, MD (PRWEB) October 22, 2014
The film "Spirit of Love" i s now available for viewing on I AM Flix. The heart-warming film is a perfect fit for the family-friendly video streaming service and its worldwide audience. The Director of "Spirit of Love", Darla Rae, said, "We've had great response from audiences at several film festivals. We are really excited to be working with IAMflix.com who will bring our film to a much larger audience around the world." CEO, Roan Saunders said, "Spirit of Love" is the type of film that we love to acquire. It has enduring messages of love, acceptance, and belonging that are all themes we embrace."
"Spirit of Love" is about the life of former NBA player Mike "Stinger" Glenn. Glenn played in the NBA for 10 seasons from 1977-1987, back when they played for the "love of the game." During Glenn's formative years he was molded and developed from improbable heroes. Mike grew up in the South during segregation, and learned profound skills for life from the most unlikely heroes: deaf children, his father, and a young girl. As a rookie drafted by the Chicago Bulls, then traded following his broken neck injury, Mike was able through faith to champion the skills he learned in his lifetime and push through the potentially career ending injury. He was not only successful at being an overcomer, but he propelled others to achieve milestones in their own lives through his basketball camps for the deaf and hard of hearing community.
IAMflix viewers can watch the film "Spirit of Love" as often as they want for as low as $5.99 per month and all customers get a free month trial with their subscription. Viewers can also choose to watch this on a pay per view option for $3.99 for a 24 hour period. IAMflix.com customers can also stream and watch the entire library of movies including documentaries, Christian films, television shows, children's programming, and inspiring movies all for the low price of $5.99/month.
IAMflix: Watch the movies you want, when you want, where you want, and as often as you want! IAMflix is committed to reaching a worldwide audience that prefers entertainment products with a wholesome themed message from one convenient source. For more information about IAMflix, log on to http://www.IAMflix.com or email info@IAMflix.com. If you have produced any films that IAMflix may be interested in streaming please contact CCosner@IAMflix.com or call 301.992.4430.