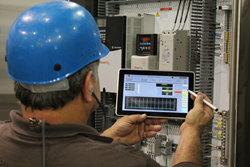 "The mobile HMI is the latest in a series of Allpax innovations designed for efficiency, productivity, and quality enhancements in automated retort rooms." — Jonny Watkins, Allpax Director of Software Engineering
COVINGTON, LA (PRWEB) October 22, 2014
Allpax, powered by Pro Mach, introduces at Pack Expo 2014, November 2-5, in Chicago the Allpax Mobile HMI, a portable information and control system for retort room management and operation. The Allpax Mobile HMI tablet-based system is a powerful productivity enhancing tool. (Allpax Pack Expo Booth # N-5317)
Personnel with the Allpax Mobile HMI handheld information and control system can review batch system reports, enter temperature readings, calibrate instrumentation, perform point-of-contact troubleshooting, and override local components. Maintenance personnel will have at their fingertips a complete set of electrical drawings, technical notes, 3D mechanical drawings, and operator manuals for the retort and its control system.
"The Allpax Mobile HMI gives retort room operators and maintenance personnel access to complete system documentation at any time for faster problem resolution and higher levels of efficiency," said Jonny Watkins, Director of Software Engineering, Allpax. "The Allpax Mobile HMI is more than a repository of technical information; there is local control functionality bundled-in as well. The mobile HMI is the latest in a series of Allpax innovations designed for efficiency, productivity, and quality enhancements in automated retort rooms."
For more information on the new Allpax Mobile HMI portable information and control system and the latest Allpax retort room automation solutions, call 1-888-893-9277 and visit http://www.Allpax.com.
About Allpax Products
Allpax Products, a market leader in retort technology and retort room automation, designs, manufactures, and delivers turnkey sterilization solutions for the food, beverage, pet food, and pharmaceutical industries. The company is recognized for helping customers become more successful by decreasing time to market with laboratory retort equipment, lowering overall labor costs through automation, and increasing the overall throughput of the sterilization process. http://www.Allpax.com
About Pro Mach
Pro Mach is a leading provider of integrated packaging and processing products and solutions for food, beverage, consumer goods, pharmaceutical, and other diverse companies. Through our brands, Pro Mach provides product packaging and processing equipment, PMMI certified training, installation, parts, and service in Bottling & Capping, Primary Packaging, Flexible Packaging, Material Handling, Identification & Tracking, and End of Line Packaging.
Pro Mach has a diverse customer base, from Fortune 500 companies to smaller, privately-held businesses worldwide, which depend on reliable, flexible, technologically advanced equipment and integrated solution sets. Pro Mach is headquartered near Cincinnati, Ohio with manufacturing facilities and offices throughout the United States, Canada, and Europe. For more information about Pro Mach, visit http://www.ProMachInc.com.