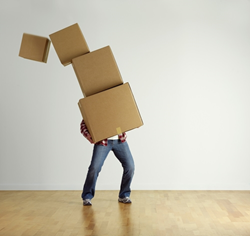 Keep towels handy
Chicago, IL (PRWEB) October 22, 2014
If moving during the winter, one will likely have an easier time getting a moving truck during the late home buying season, however, The Federal Savings Bank knows that the overall endeavor of moving will be more difficult.
Snow can not only slow the moving process down, but it can also present safety risks. Plus, few people like moving, and these feelings don't become any warmer in the colder months of the year.
Here are five tips to take some of the edge off a winter move:
Take time. Winter can be a slippery period of the year. When moving heavy objects, these conditions aren't favorable. As a result, don't try to rush through the move. This applies to everything from carrying possessions to and from the truck to driving the truck. One does not want friends and family who are helping to slip while handling a large piece of furniture or the moving truck to slide on the road.
Keep towels handy. This step is another measure aimed at promoting safety. Use towels to dry off the moving truck ramp. If boots leave water on the ramp, it can become slippery and present a hazard. Towels are also useful on the floor by the entrance to the old and new homes. Individuals can dry their boots to avoid tracking water through the properties.
Shovel and salt walkways and driveways. Ensure the helpers have a clear path at both homes. Head out before the scheduled moving time and clear any snow from driveways and walkways. Sprinkle some rock salt to prevent ice from forming.
Leave the heat and electricity on. Keep the utilities going in both homes. Light and warmth can be beneficial if moving runs into the evening hours. However, one may want to leave a door open to maintain a consistent temperature between the outside and inside, as one can become tired more quickly if their body temperature switches too often.
Dress in layers. Although it may be freezing outside, one can overheat after moving a lot of heavy stuff. One may be tempted to throw on a heavy winter coat, but layer the clothing instead. If someone gets too hot, their can begin peeling off layers until they're comfortable. Again, temperature regulation helps prevent fatigue.
Contact The Federal Savings Bank, a veteran owned bank, for information about getting affordable financing for the home of ones dreams.