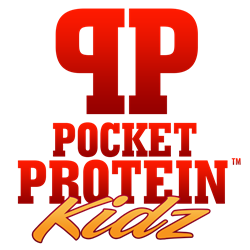 When the public helps put more responsible, wholesome options on the market, everyone wins. People have real power to create substantial change.
St. Petersburg, Florida (PRWEB) October 22, 2014
Pocket Protein KIDZ, a new protein drink for children, is joining the fight against childhood hunger and obesity — and you can help.
Today in the United States, more than 15 million children don't know when they'll eat next. An even higher number of children are obese, making it the first time in our nation's history that obesity is endangering more young Americans than hunger. Even for parents who have the means to make nutritious snacks from scratch, as schedules become more and more hectic, finding the time to whip up tasty, healthy treats that provide the essential nutrients our kids need is a daunting challenge.
That's where Pocket Protein KIDZ comes in.
The creators of Pocket Protein have spent the past two years working with pediatricians and other experts to perfect Pocket Protein KIDZ, a groundbreaking new way to ensure that children are getting enough protein.
Pocket Protein KIDZ is shaking up the market in five key ways
Filler-free. Pocket Protein KIDZ is fat-free, caffeine-free, gluten-free, and lactose-free, as well as low-sugar and low-carb. A drink that never needs refrigeration, Pocket Protein KIDZ is full of essential vitamins instead of the extra junk other snacks and drinks feature that cause sluggishness and even obesity.
Allergen-free. Finding on-the-go options for children with nut allergies or gluten or lactose intolerance has been notoriously difficult—until now. Pocket Protein KIDZ offers a complete, energizing protein that all kids can safely drink.
Protein-packed. Pocket Protein KIDZ provides 7 grams of protein.
Safe. Pocket Protein KIDZ adheres to the FDA rules and regulations for beverages. It is registered with the FDA and submits its ingredients and manufacturing process to them for review. Pocket Protein KIDZ adheres to all the safety regulations and oversight as milk or juice.
Naturally sweet. Made without artificial sweeteners, colors or sodium benzoate—three particularly harmful add-ins for kids with autism or ADHD—Pocket Protein KIDZ is made from real apple juice and a blend of all natural sweeteners including Stevia.
Now, Pocket Protein has launched a crowdfunding campaign powered by Tilt to help get the power of Pocket Protein KIDZ on shelves, and is asking for those who share the product's focus on healthy children and quality ingredients to support the effort.
The company has turned to crowdfunding out of a desire both to work with moms and dads across the country, and to be even more answerable to health-conscious consumers. When the public helps put more responsible, wholesome options on the market, everyone wins. People have real power to create substantial change. By contributing to companies with a mission like Pocket Protein KIDZ, individuals join a passionate movement for wellness that is gaining momentum around the world.
The goal? Pocket Protein hopes to raise $100,000. The funds will pay for the first 150,000 units of Pocket Protein KIDZ, which will be sold both in brick and mortar stores and online.
But that is just the beginning. Pocket Protein believes the momentum from the first $100,000 raised will inspire communities to believe that, together, we can have real impact in the fight to eradicate childhood hunger and obesity. Pocket Protein's stretch goals if they raise >$500,000 include creating a "Strong Body. Strong Mind" National Award program to recognize children and families who've achieved healthy goals both in both body and mind and providing Pocket Protein KIDZ to food banks and school districts around the country.
Every little bit helps. Donate here: https://pocketproteinkidz.tilt.com.
In addition to bringing a responsibly sourced new product to grocery shelves everywhere, Pocket Protein is partnering with parents, the Los Angeles Regional Food Bank (a member of the Feeding America network), The Center for Youth: Crisis Nursery, and others to feed hungry kids. Pocket Protein will be donating product to these organizations as incentives to support the crowdfunding campaign to help families in need get the protein they need for a healthy diet. As organizations across the country with big hearts and small budgets step in to help, they often have to rely on highly processed, non-refrigerated foods: starchy, sugary carbs, and other foods high in fat and sodium. Pocket Protein KIDZ offers a way to now include a safe, non-refrigerated, vitamin-packed protein drink—an ideal tool for the hundreds of non-profits working diligently to make a difference in kids' lives everyday.
For more information about Pocket Protein KIDZ's expert-led development and exciting crowdfunding campaign launch, check out the official video.
Learn more about Pocket Protein via http://pocketprotein.com.
About Pocket Protein
The most challenging nutrient to fit into your daily diet has just become the easiest. In a single 2-ounce foil pack, Pocket Protein delivers 20 grams of delicious, high grade protein with zero fat, carbs, sugar, gluten, lactose or caffeine. It never needs refrigeration and can fit into your pocket for a satisfying protein boost anytime, anywhere.
http://pocketprotein.com
About Los Angeles Regional Food Bank
For 41 years, the Los Angeles Regional Food Bank has worked to mobilize resources in the community to alleviate hunger. With a vision that no one goes hungry in Los Angeles County, the Food Bank distributed 60 million pounds of food in 2013 and 1 billion pounds of food since its inception. The Food Bank collects food from hundreds of resources, which – with the help of 33,000 volunteers annually – it distributes through a network of more than 670 partner agencies at more than 1,050 distribution and program sites. For more information or to get involved, visit http://www.lafoodbank.org.