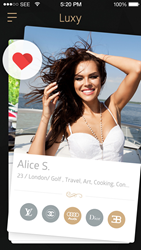 Los Angeles, California (PRWEB) October 26, 2014
The "world's most luxurious dating app", Luxy, has recently been launched into the Android Market. The goal of Luxy is to connect successful individuals such as CEOs, entrepreneurs, investors, and millionaires to the likes of beautiful individuals such as beauty queens, fitness models, and celebrities.
The Luxy app is claiming to be the new "Tinder - minus the poor people" and the "world's most luxurious dating app." It recently launched its new Android version on Google Play, and the iOS version was released back in May and has since gained international popularity. The Luxy app received 50,000 downloads within its first month of operation. This is quite unusual for new dating apps, and speaks volumes about its rise to popularity.
Luxy has received many reviews on the Google Play Store over the last couple weeks since launching its new Android version. The new dating app is creating some controversy among its users due to its prejudice nature and risky platform. Many people do not approve of the Luxy concept and some reviewers have recently wrote that the app is "exclusively for the 1%," "weeding out low income people," and "discriminating based on income."
However, the app is still quite popular and many users think there is a great market for this app to be in existence. A recent reviewer wrote that the Luxy app is "a great new concept," and another wrote that they "love connecting on Luxy - my kind of people." The Luxy app is essentially a dating app for the rich, successful, and the beautiful. This is a luxurious dating app for wealthy individuals and clearly is marketing towards the top 1% demographic. Luxy created this app understanding that it can be quite hard meeting elite individuals offline, and wanted to connect the top 1% with each other.
Unlike many other dating apps currently available, Luxy does offer some unique features for people who enjoy a luxurious lifestyle. When a new account is created, the user must select their favorite luxury brands and verify their income. The information will be displayed on the users profile, making it easy to connect with like minded individuals. Members can only send messages to each other if they have both "liked" one another, in order to avoid unwanted messages. The app also allows users to share luxury moment photos with people all over the world. It is important to note that the app is not intending to be a "sugar daddy" platform, but rather helping to connect rich individuals with each other.
Luxy is free to download and connects local elite singles with one another. To find out more information about Luxy and its ongoing controversy among members, individuals are encouraged to download the free app and decide for themselves whether or not the app is appropriate.
Download Luxy on Google Play | App Store