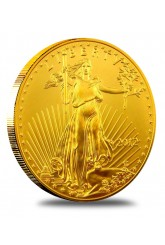 Agora's CEO, Joseph Castillo, provides his impetus behind the catalog-wide discount: "After seeing such a high level of new, gold bullion demand from DigitalTangible, we are able to offer a unique promotion on all Agora fine gold bars and coins."
San Francisco, Ca (PRWEB) October 22, 2014
DigitalTangible, Inc and Agora Commodities, leaders in Bitcoin-precious metals space, kick off a new promotion that cuts the already low prices of Agora Commodities gold offered exclusively on DigitalTangible's platform by an additional 0.25%. This brings the gold prices offered on DigitalTangible to the lowest available anywhere online and with no minimum purchases required. This offer is only available online DigitalTangible's gold and silver marketplace. Purchased gold is stored in DigitalTangible's vault-depository network and linked to the Bitcoin blockchain as a tradeable digital token to trade or redeem for physical delivery.
Agora Commodities is Bitcoin's first full service bullion dealer. They offer the most widely traded investment-grade gold, silver, platinum, palladium, and rhodium bullion at some of the most competitive prices available. Going beyond merely selling precious metals, they have an extensive network designed to help any investor so that gold and silver can be a part of their portfolio.
Agora Commodities makes a perfect match for DigitalTangible's platform that allows its customers fast, transparent, and secure control of their valuable hard assets, anywhere in the world while lowering investment and portfolio management costs via its patent-pending Proof of Custody. With DigitalTangible, investors can now convert all their precious metal investments into digital money for global transmission and redemption anywhere Bitcoin is accepted.
Agora's CEO, Joseph Castillo, provides his impetus behind the catalog-wide discount: "After seeing such a high level of new, gold bullion demand from DigitalTangible, we are able to offer a unique promotion on all Agora fine gold bars and coins. It pleases us to increase the competitiveness of DigitalTangible's precious metals marketplace and we welcome new customer exposure."
Taariq Lewis, founder and CEO of DigitalTangible comments: "Agora Commodities continues to be aggressive in their desire to own savvy investors for physical gold bullion and coins. This action allows Agora to capture yet more demand from customers anywhere in the world who intend to profit from the volatility trading both gold and bitcoin at the lowest costs possible."
Interested parties may find out more by visiting DigitalTangible or Contact Michael Mansour for more details: media(at)digitaltangibletrust(dot)com or +1 (415) 890-5431 ext 3