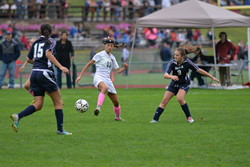 The broadcast will be similar to NFL Red Zone – we'll be giving Raider fans all the excitement of multiple games at once.
Princeton, NJ (PRWEB) October 23, 2014
On Saturday, October 25th at 1:30 p.m. as The Hun School of Princeton and Strive Network will broadcast four varsity athletic games online, in one stream. The Hun School Raiders will compete against The Lawrenceville School in Football, Boys' Soccer, Girls' Soccer, and Field Hockey as part of The Hun School's Homecoming and Parents' Weekend festivities. Viewers at home can now watch all four games at once, at no cost.
Strive will use multiple cameras and studio quality production to provide a feature-rich broadcast, complete with professional commentary. Their patent-pending technology ensures sound and picture quality with multiple angles for a complete viewer experience. Viewers from all over the world can watch the games live online or queue a rebroadcast at their convenience.
"Our boarding parents cannot always attend games in person," said Maureen Leming, communications director. "They appreciate the opportunity to see their child play and participate in school life from wherever they may be. We are also hearing from alumni and college recruiters who have tuned in to watch our students perform … and not just in athletics. Parents and alumni enjoy watching live broadcasts of our plays and musicals, too."
It is not uncommon for colleges to broadcast athletic games for out of town supporters and parents. And, it is now an emerging trend for boarding schools, some of which regularly broadcast high profile events and teams. However, it is unusual for a school to broadcast four games at once, at no cost to viewers.
"We like working with schools to broaden their community engagement," said Executive Producer Thomas Monfiletto. "We're also pretty excited to offer a multi-game format. It will be similar to NFL Red Zone – we'll be giving Raider fans all the excitement of multiple games at once."
All games will be broadcast live on The Hun School Athletic Website.
About The Hun School of Princeton:
The Hun School of Princeton is a co-educational, private day and boarding school in Princeton, New Jersey. Individual attention and strong student-faculty relationships are the hallmarks of the School. On the 45-acre campus between Philadelphia and New York City, student-centered, hands-on learning prepare students for the global community in which they will live and work. The Hun School is comprised of 630 students in its Middle School, Upper School, and Postgraduate Program. The Hun School is home to students from twenty-three countries and eighteen states.