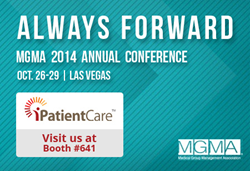 We are thrilled to demonstrate the customizable Patient Kiosk, fully integrated with EHR & PMS and clinically driven RCM, that enables physicians' offices to assured charge capture, 98% claims pass-through, said Shripal Shah, STO, iPatientCare
Las Vegas, NV, (PRWEB) October 23, 2014
iPatientCare, Inc., a pioneer in mHealth and cloud-based ambulatory EHR and integrated Practice Management announced to exhibit and showcase the Patient Kiosk, Clinically-driven Revenue Cycle Management and ICD-10 Ready EHR and PMS at Upcoming MGMA 2014 Annual Conference, October 26-29, 2014.
The MGMA 2014 Annual Conference is one of the great gatherings of the professionals in the Healthcare industry. It address the issues that impacts healthcare today for medical groups and physician offices. This is an excellent opportunity to find new pieces to further grow physicians facility or practice, and iPatientCare is all geared up to demonstrate its Patient Kiosk – the next generation self-checking process which modernize the healthcare facility by delivering better patient experience and streamlines the medical offices workflow. It will also exhibit its clinically driven Revenue Cycle Management service, Institutional billing and ICD- 10 ready EHR and PMS that is designed to meet with the challenges faced by the nation's healthcare IT – Better Outcomes, Lower Costs, Meaningfully.
"We are thrilled to demonstrate the customizable Patient Kiosk, fully integrated with iPatientCare EHR and PMS and Clinically driven RCM, that enables physicians' offices to assured charge capture, 98% claims pass-through, efficient A/R follow-ups, and increased collections and revenues", said Shripal Shah, Senior Technology Officer, iPatientCare. He further commented, "Additionally we plan to showcase the Institutional Billing for doctor's offices, inpatient and outpatient hospital which helps them to drive efficient invoicing and managing receivable, while meeting today's increasing regulatory requirements."
iPatientCare EHR product suite is an integrated system that streamlines patient care with standardized, real-time clinical and administrative workflow throughout a practice. To know more about our solutions visit booth #641 at MGMA 2014 Annual Conference.
About iPatientCare:
iPatientCare, Inc. is a privately held medical informatics company based at Woodbridge, New Jersey. The company's unified product suite that include Electronic Health/Medical Record and integrated Practice Management/Billing System, Patient Portal/PHR, Health Information Exchange (HIE), and mobile point-of-care solutions for both ambulatory and acute/sub-acute market segments. iPatientCare has been recognized as a preferred/MU partner by numerous Regional Extension Centers (REC), hospitals/health systems, and academies, and additionally, has been designated as a Test EHR by the CMS.
iPatientCare EHR 2014 (2.0) has received 2014 Edition Ambulatory Complete EHR certification by ICSA Labs, an Office of the National Coordinator-Authorized Certification Body (ONC-ACB), in accordance with the applicable eligible professional certification criteria adopted by the Secretary of Health and Human Services (HHS).
Full certification details can be found at ONC Certified Health IT Product List.
iPatientCare Inpatient EHR 2014 (2.0) Received ONC HIT 2014 Edition Complete EHR Certification from ICSA Labs, determines ability to support eligible hospitals with meeting meaningful use stage 1 and stage 2 measures required to qualify for ONC Health IT funding under the American Recovery and Reinvestment Act (ARRA).
Full certification details can be found at ONC Certified Health IT Product List.
The ONC 2014 Edition criteria support both Stage 1 and 2 Meaningful Use measures required to qualify eligible providers and hospitals for funding under the American Recovery and Reinvestment Act (ARRA).
Visit http://www.iPatientCare.com for more information.
About MGMA
The Medical Group Management Association (MGMA) helps create successful medical practices that deliver the highest-quality patient care. As the leading association for medical practice administrators and executives since 1926, MGMA helps improve members' practices through exclusive member benefits, education, resources, news, information, advocacy and networking opportunities, and produces some of the most credible and robust medical practice economic data and data solutions in the industry. Through its industry-leading ACMPE board certification and Fellowship programs, MGMA advances the profession of medical practice management. Through its national membership and 50 state affiliates, MGMA represents more than 33,000 medical practice administrators and executives in practices of all sizes, types, structures and specialties. MGMA is headquartered in Englewood, Colo., with a Government Affairs office in Washington, D.C.