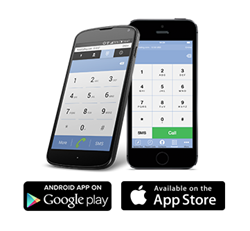 When customers make calls using KeepCalling app, their phone number will appear as the source number of the call.
Atlanta, Georgia (PRWEB) October 24, 2014
KeepCalling.com has recently made it possible for its customers to set their Caller ID when calling from its smartphone app available for Android and iOS. The app is called KeepCalling and can be downloaded for free from the App Store and Google Play. By implementing this new option, the international telecommunications company proves that it takes into account its customers' opinions, since this feature is the result of their feedback.
What this novelty brings is the fact that, when customers make calls using KeepCalling app, their phone number will appear as the source number of the call. That means their friends and family will see the customers' personal numbers on their phone screens when they receive a call. This function is called "Set My Caller ID" and can be found in the More menu section. The activation procedure is simple and can be divided into three steps:
1. The customers need to enter their mobile number in international format;
2. They will receive an SMS on the number they entered containing a verification code;
3. The customers need to enter the verification code received.
In order to be able to benefit from this feature, the customers need to use the latest version of the application.
KeepCalling app enables customers to call or send SMS to any international destination directly from their Apple device at the regular rates listed on KeepCalling.com. All users have to do is update the application from App Store, log in with their email and PIN, and enjoy the easy calling experience. The download is free of charge. Any customer who has an account with KeepCalling.com and bought Voice Credit or a Monthly Plan can use the app to make international calls and send SMS.
With KeepCalling app, customers can place direct calls, without having to enter their PIN or an access number first. Customers don't even have to dial the destination number they want to reach, as they can use their phone Contacts list or the Speed Dial option, if it is activated in their online account with KeepCalling.com.
KeepCalling app was designed to render international calls faster, easier to make, more transparent, while keeping the high connection quality and the low rates KeepCalling.com customers are used to. The application is an answer not only to the increasing number of iOS users, but also to KeepCalling.com's wish to make the service as easy and accessible as possible.
KeepCalling app is one of the three calling options KeepCalling.com offers its customers. The calling service is also available through local and toll free access numbers, which may be used from more than 35 countries. Also, if customers have Internet access, they can make calls from anywhere in the world from their computer, using the Web Call application offered by KeepCalling.com.
The services KeepCalling.com offers are Voice Credit, Mobile Recharge, Monthly Plans, and Virtual Numbers. Transactions on KeepCalling.com are transparent, there are no hidden fees and the PIN balance never expires. Moreover, transaction information and call records are always available in the online account. A KeepCalling.com customer states, `The service is impeccable.`
About KeepCalling.com
KeepCalling.com is an interactive website designed by KeepCalling, a global telecommunications company registered in 2002 in USA. KeepCalling provides its services to hundreds of thousands of consumers and businesses, with a focus on customer satisfaction. In 2014, Inc. Magazine listed KeepCalling as the 18th fastest growing company in the telecommunications industry in US.