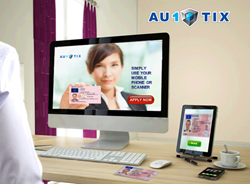 The addition of world-class technology like AU10TIX BOS to our toolkit helps us to raise the bar for our clients and set a new standard for the industry.
Nicosia, Cyprus (PRWEB) October 23, 2014
AU10TIX online BOS platform replaces and augments manual back-office work of determining the authenticity of online-submitted images of ID documents and converting their data to workable digital records. For an international operation such as Elian AU10TIX BOS can be a powerful service leverage, an operating efficiency booster and a growth facilitator. The platform that handles government issued ID facilities from all over the world can auto-identify ID document images, authenticate both the data and the document image itself and extract printed and encrypted content within seconds. AU10TIX BOS can also auto-recheck borderline quality images and if necessary channel them to further examination. AU10TIX BOS can speed up customer screening and onboarding, increase record quality, boost fraud protection and KYC compliance and increase effective traffic volume handling capacity.
"Elian has a vision to challenge the status quo and become the company that constantly raises the bar in terms of client service in the fund, trust and company administration services industry; the one that sets the standards for others to follow.", says Daniel Le Blancq, Director of Elian: "We already embrace a range of innovative online tools within our business to positively tackle the frustrations and delays typical of the customer due diligence experience across the regulated services sector. The addition of world-class technology like AU10TIX BOS to our toolkit helps us to raise the bar for our clients and set a new standard for the industry.
"The administration market, and especially international players, have been waiting for such a solution for a long time", says Ron Atzmon, Managing Director of AU10TIX: "Now they have it. With the increasing demands from regulators and the boom in cross-market demand, automating customer ID authentication and onboarding becomes a must if you want to grow. Your other option is having people eyeball ID images and key in data manually. That means time, costs and inevitable inaccuracies. That bottleneck is now relieved. Administration services can now do what financial services and other online services do to grow their business and comply with regulations."
"Elian is a leading international administration services provider and as such chose AU10TIX BOS because they can count on its high accuracy and performance", says Ofer Friedman, VP Marketing of AU10TIX: "They tested the BOS system very thoroughly and wanted it to integrate seamlessly with the normal operating practices of their back office. That's one additional big plus for AU10TIX BOS, it is a flexible, policy adjustable solution that's easy to implement and deliver value from day one"
About Elian
Elian (the management buyout of Ogier Fiduciary Services) are specialists in Corporate Services, Fund Services, Private Wealth and Capital Services, Elian has a clear, uncompromising vision: to continually deliver more value by raising the bar in Administration services. Elian works with multi-national corporations, financial institutions, high net worth individuals, family offices and investment funds and believe that the best can always be better. With 500 professionals across a network of ten international offices, covering all time zones and key financial centres, Elian is able to handle large, demanding and complex engagements and is always looking to set new industry standards by challenging standard practice.From technical skills and market understanding to client service and expert advice, Elian are relentless in the pursuit of excellence.
For more information, visit http://www.elian.com
About AU10TIX
AU10TIX Limited, a fully owned subsidiary of ICTS International N.V, deals with the authentication and digitization of identifying documents including Passports, identity cards, driving licenses and other complementary identifying documents. The company specializes in implementing hardware & software based applications used for scanning, identifying, content retrieval, authentication and validation of identifying documents. AU10TIX is a pioneer of all-channel (front-end and online) ID authentication and processing solutions. The company's products drastically reduce identifying document-based fraud, reducing the costs associated with client processing and enabling effective regulatory compliance, while making the sales and support operations speedier and considerably more efficient.
For more information, visit http://www.au10tix.com
About ICTS International N.V.
ICTS specializes in the development and implementation of innovative security concepts and solutions designed to meet the needs of a variety of industries, mainly aviation transportation, border control and sensitive facilities. ICTS International benefits from over two decades of expertise and international operational experience in transportation security, with a particular emphasis on high-risk environments, passenger processing transactions and the integration of security services to provide a comprehensive security solution. It also offers a wide variety of customized training programs, tailored procedures and a wide range of security consulting services. The company has developed and implemented unique technological solutions, based on its comprehensive approach to security, designed to enhance the level of security while accelerating the security check process.
For more information, visit http://www.icts-int.com
This press release contains "forward-looking statements" within the meaning of the Private Securities Litigation Reform Act of 1995, regarding the Company's business strategy and future plans of operations. Forward-looking statements involve known and unknown risks and uncertainties, both general and specific to the matters discussed in this press release. These and other important factors, including those mentioned in various Securities and Exchange Commission filings made periodically by the Company, may cause the Company's actual results and performance to differ materially from the future results and performance expressed in or implied by such forward-looking statements. The forward-looking statements contained in this press release speak only as of the date hereof and the Company expressly disclaims any obligation to provide public updates, revisions or amendments to any forward-looking statements made herein to reflect changes in the Company's expectations or future events.
Contact:
Elian
Daniel Le Blancq, Director - Operations
Email: daniel(dot)leblancq(at)elian(dot)com
Tel.: +44 1534 504282
AU10TIX
Ofer Friedman, VP Marketing
Email: ofer(dot)friedman(at)au10tix(dot)com
Tel.: +357 (22) 007698
ICTS International NV
Alon Raich
Email: mail(at)ictsinternational(dot)com
Tel.: +31-20-716 3421