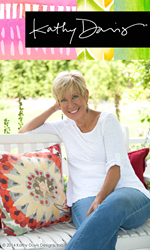 We're so thrilled that our message is resonating across categories. This is a really exciting time for us.
Horsham, PA (PRWEB) October 23, 2014
Kathy Davis is on a roll, with momentum building and business growing...fast. Having been listed in May among the top 150 licensors by License! Global magazine, the company is poised for further growth with seven new partners, whose products will appear in stores beginning March 2015. The largest of these is ACCO Brands, one of the world's largest suppliers of branded consumer and office products. Slated to introduce 2016 products beginning in January, offerings will cross all three Kathy Davis brands – Kathy Davis (signature/high-end specialty), Kathy Davis Scatter Joy (mid tier) and Portfolio by Kathy Davis Studios (mass).
This current Kathy Davis vigor comes on the heels of a robust 2013-14 licensing year, according to Kathy Davis, founder and Chief Visionary Officer of the company that bears her name. "Inspiring others to create a life they love and to express themselves in ways that bring them joy has always been important to me," says Davis. "We're so thrilled that our message is resonating across categories. This is a really exciting time for us."
This success expands the brand into new categories and product offerings; significant statements in home and fashion are set for a multi-tier market channel launch with the following partners:
Fashion: Fashion jewelry leader NES Jewelry, launching a Scatter Joy everyday necklace collection at New York Accessories Market Week in November 2014.
Home: Nostalgia Home Fashions, to debut Fall 2015 Kathy Davis bedding (signature) at March 2015 Home Fashions market; R Squared/Zrike Brands, with Spring 2015 Scatter Joy giftable tabletop appearing at Atlanta Gift & Home Furnishings market in January 2015; Boulevard Candle, a division of Langley Empire Candle Company, with Kathy Davis everyday candles (signature) showing at the January 2015 market in the OneCoast showroom in Atlanta. Fabric Traditions, with Scatter Joy fabrics launching in Spring 2015; nVision - Marketing, with pet beds launching March 2015 at Global Pet Expo.
With licensed products in over 60,000 doors, Kathy Davis touches some 80 million consumers and generates over $100 million at retail each year. The company is building upon its growing stable of licensees across home, fashion, gift, stationery, social expression and more.
About Kathy Davis Studios
Kathy Davis Studios (KDS), headquartered in Horsham, PA, is a leading design company that began over 25 years ago, serving the greeting card, stationery and gift industries. It has since expanded to become a lifestyle brand with key categories in home and fashion. Led by Kathy Davis, America's top social expression designer, KDS is known for expressive, hand-painted art and inspiring, hand-lettered messages. The firm designs meaningful products that sell worldwide, products that foster connection and inspire others to create a life they love. Please visit us at http://www.Kathydavis.com