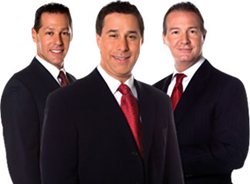 Delray Beach, FL (PRWEB) October 30, 2014
LAW firm Steinger, Iscoe & Greene represented Patricia Miley in her suit against the City of Delray Beach for a serious collision with an on-duty police vehicle driven by then Officer Michael Brown.
Though the City of Delray mounted a formidable defense, the jury in this case affirmed, by way of the verdict, that the city must be held responsible for Brown's actions.
Firm partner, Michael Steinger, says about the five-year, seemingly uphill battle, "It was a team effort and Dale Buckner and Bill Vertes did a lot of the work, along with Director of Litigation David Knight; all 3 worked hard on trial."
Miley intends on using the funds to ensure continuation of care for the injuries sustained as a result of the accident. When asked about take-aways for this case, Steinger says, "Jurors need not be afraid to right injustice and hold at-fault parties monetarily responsible when found liable for causing injury to another."
About Steinger, Iscoe & Greene:
Steinger, Iscoe & Greene is a proven legal team whose number one goal is to get injury victims throughout Florida and California every dollar they truly deserve for their injuries. Since 1997, the firm's lawyers have successfully handled cases including: auto accidents, bicycle accidents, birth injuries and medical malpractice. The entire legal team is committed to representing and fighting for injury victims' best interests, giving each client insight into Florida law and their rights.
Steinger, Iscoe & Greene is a legal team with more than 30 lawyers and 140 legal professionals. With offices throughout South Florida - Miami, Fort Lauderdale, West Palm Beach, Port St Lucie, Okeechobee, Ft Myers, Orlando and Tampa – and most recently in San Diego, California, the firm is ready to advocate for the best interests of injury victims coast-to-coast.
IN THE CIRCUIT COURT OF THE FIFTEENTH JUDICIAL CIRCUIT, IN AND FOR PALM BEACH COUNTY, FLORIDA
PATRICIA MILEY, Plaintiff,
vs.
CITY OF DELRAY BEACH
CASE NO. 502009CA033819XXXXMBAD